Talk about your dream job: Bài mẫu & các từ vựng về ngành nghề phổ biến
Trong bài viết này, DOL English sẽ cung cấp cho các bạn phần từ vựng cho chủ đề Describe your dream job , cùng với các cấu trúc câu và bài mẫu tham khảo "ăn điểm" giúp các bạn tự tin hơn trong phần trả lời, tránh tình trạng ấp úng, nói lan mang  của mình trong phòng thi nhé.
1. Bố cục bài Describe your ideal job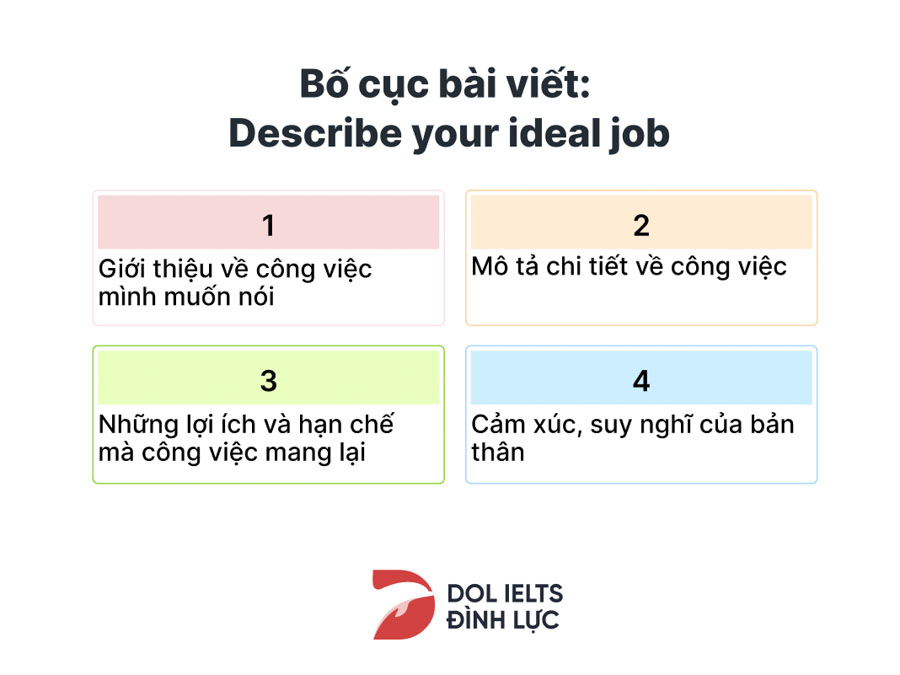 1.1 Giới thiệu về công việc mình muốn nói
Để tránh việc câu trả lời bị ngắn ngủn, các bạn có thể bắt đầu bằng cách nêu ra nguyên nhân tại sao mình lại thích công việc này nhé. Chẳng hạn bạn được truyền cảm hứng từ ai đó, hoặc đây là công việc mơ ước của bạn từ bé, hoặc bạn muốn tiếp nối bước chân của ai đó bằng gia đình.
Cấu trúc câu gợi ý: Perhaps I should start by talking about how I got inspired to follow this path. This is because ……….
1.2 Mô tả chi tiết về công việc
Sau khi giới thiệu về công việc, bạn nên mô tả kĩ hơn về những yêu cầu của công việc. Ví dụ như: Yêu cầu về bằng cấp, kiến thức, chuyên môn. Để trả lời tốt phần này bạn cần chuẩn bị tốt những từ vựng liên quan và biết rõ công việc mình đang muốn mô tả.
1.3 Những lợi ích và hạn chế mà công việc mang lại
Để bài nói có chiều sâu và được đánh giá cao, bạn hãy mô tả thêm về những lợi ích mà công việc này giúp bạn gặt hái (lợi ích về phát triển bản thân, mối quan hệ xã hội, thu nhập, môi trường làm việc), hoặc những hạn chế trong công việc nếu có (sức khoẻ tinh thần hoặc thể chất).
1.4 Cảm xúc, suy nghĩ của bản thân
Phần cuối cùng không thể thiếu là những cảm xúc, suy nghĩ của bạn về công việc này. Điều này giúp cho bài nói của bạn có tính độc nhất, không bị rập khuôn. Điều mà giám khảo luôn luôn tìm kiếm ở những thí sinh vì đa số các thí sinh đều cố gắng học thuộc lòng những bài mẫu ở nhà, làm cho bài nói mang tính khô khan, thiếu cảm xúc.
Trước hết, điều quan trọng cần lưu ý là tất cả các thẻ gợi ý là duy nhất và do đó bạn không thể chỉ ghi nhớ câu trả lời cho một thẻ mà bạn dự đoán. Bất cứ khi nào bạn được đưa cho một thẻ gợi ý, bạn nên phân tích nó một cách cẩn thận.
2. Từ vựng chủ đề Describe your ideal job
Accountant: kế toán Dentist: nha sĩ

Tour guide: hướng dẫn viên du lịch

Advertising executive: trưởng phòng quảng cáo

Engineer: kỹ sư

Architect: kiến trúc sư

Estate agent: nhân viên bất động sản

Artist: nghệ sĩ

Painter: họa sĩ

Bank clerk: nhân viên ngân hàng

Photographer: thợ ảnh

Businessman: doanh nhân

Pilot: phi công Promotion: thăng chức

Cashier thu ngân

Secretary: thư ký

Salary increase: tăng lương

Chef: đầu bếp trưởng

Shopkeeper: chủ cửa hàng

Job description: mô tả công việc

Composer: nhà soạn nhạc

Singer: ca sĩ Department: phòng ban

Part-time: bán thời gian

Temporary: tạm thời

Full-time: toàn thời gian

Permanent: dài hạn
3. Cấu trúc câu chủ đề Describe your ideal job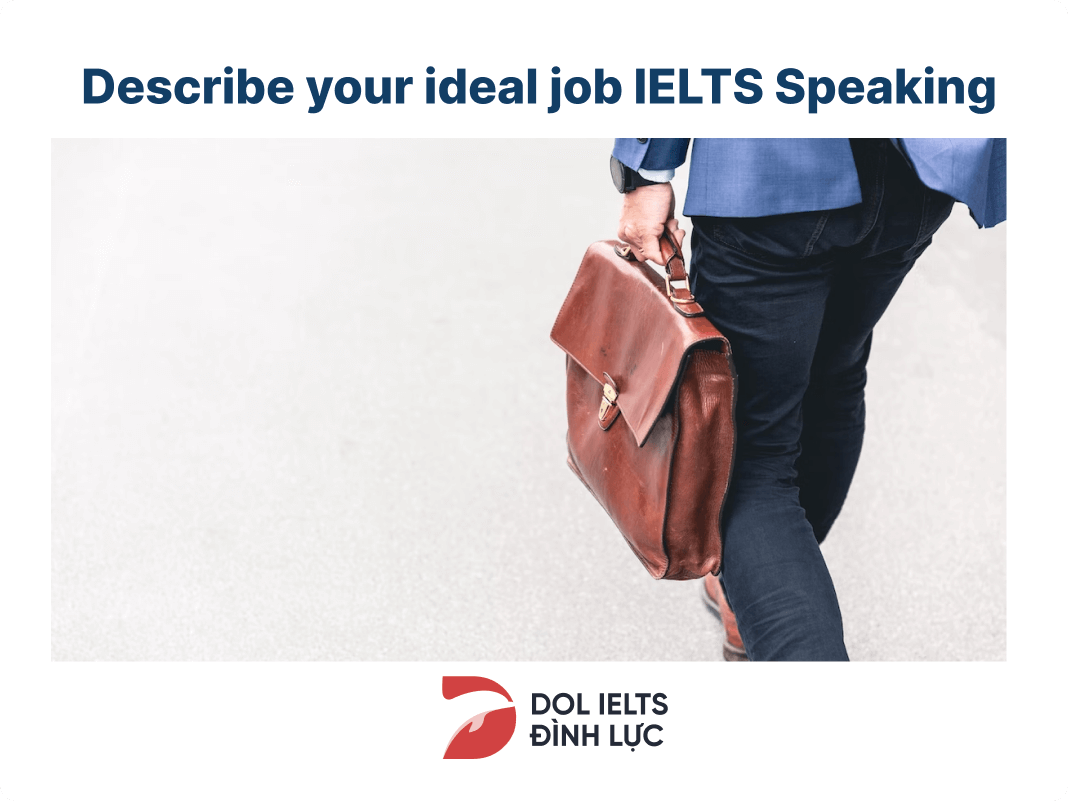 Ever since I was small, I have always wanted to become………….: Kể từ thuở bé, tôi đã luôn muốn trở thành…

This is the job that I can derive satisfaction and fulfillment from: Đây là công việc mà cho tôi sự thoả mãn và hạnh phúc

I'd say ABC is the ideal company that I'd be more than happy to work for: Tôi muốn nói rằng ABC là công ty mà tôi rất hạnh phúc khi được làm việc ở đây.

To be qualified for the job …………., I guess I'd probably need…………..: Để có thể đáp ứng được yêu cầu công việc này, tôi nghĩ rằng tôi cần phải.

There are a wide range of benefits that I can reap from this job: Có rất nhiều những lợi ích mà tôi có thể gặt hái từ công việc này.
4. Bài mẫu Describe your ideal job Part 2
4.1 Bài mẫu Talk about your dream job – Teacher
I'd want to tell you about my ideal job today.
It is the responsibility of an English instructor. I don't mind working at a language center, a large school, or even a university as long as they are dependable. You see, I've been hearing a lot of dramas going on around many English centers lately, and it's making me nervous.
Of course, one of the job's qualities is to teach the English language. However, due to the current increase in demand, I would prefer to concentrate on IELTS and Communication English.
To be prepared for this position, we must first obtain a TESOL degree, which is a training course in English teaching that will prepare us to become professional teachers. More than that, our work demands a great deal of dedication and patience since we must interact with a wide range of kids with diverse backgrounds and personalities. That is why, above all, social skills are crucial, especially for modern instructors like me.
This work is ideal for me for various reasons:
First, I get to meet a lot of kids who always have a story to share, and I feel we can learn a lot from them, such as life experiences and a different viewpoint on certain common societal issues.
Second, a teacher might inspire others by sharing his or her life story. I don't mean that we should always reveal our personal tales to make students like us; rather, I mean that we should inspire students to love the language by sharing our real-life experiences and examples with them.
Last but not least, by teaching the language, a teacher has the potential to disseminate the worth of the language to pupils, allowing them to perceive the language as an art form rather than just a test or a means for earning money.
4.2 Bài mẫu Talk about your dream job – Salesman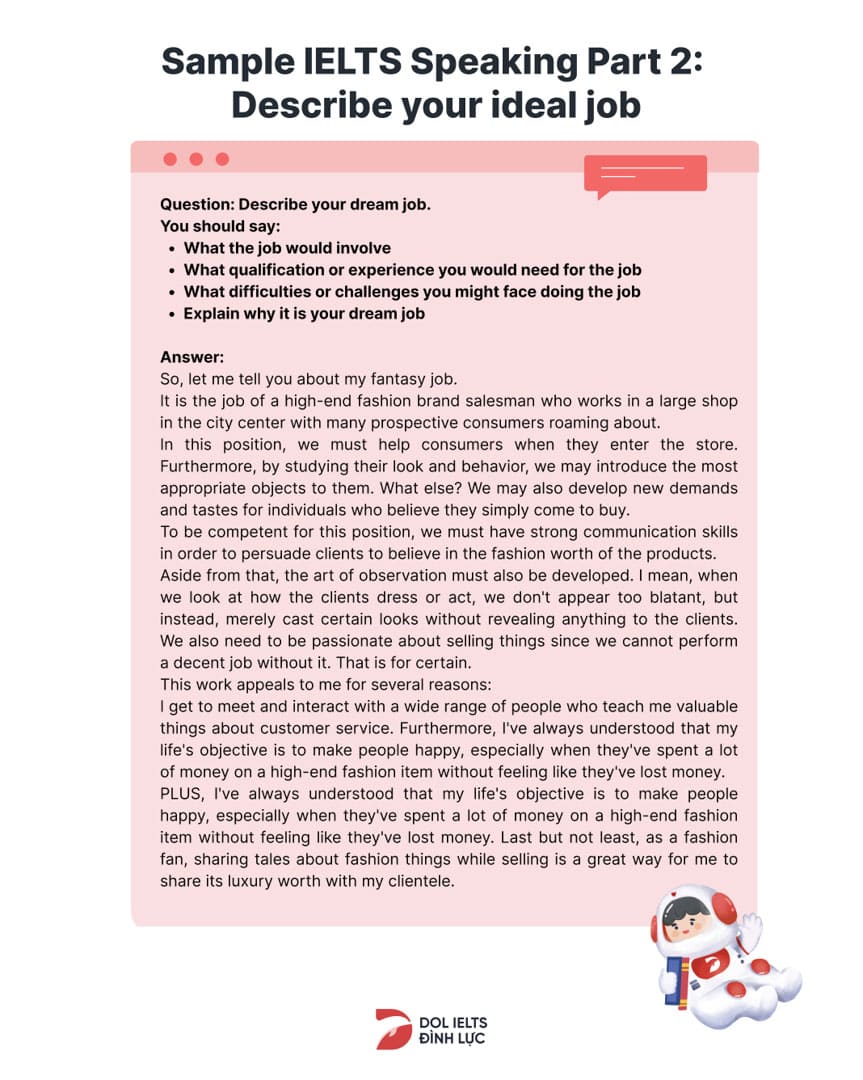 So, let me tell you about my fantasy job.
It is the job of a high-end fashion brand salesman who works in a large shop in the city center with many prospective consumers roaming about.
In this position, we must help consumers when they enter the store. Furthermore, by studying their look and behavior, we may introduce the most appropriate objects to them. What else? We may also develop new demands and tastes for individuals who believe they simply come to buy.
To be competent for this position, we must have strong communication skills in order to persuade clients to believe in the fashion worth of the products.
Aside from that, the art of observation must also be developed. I mean, when we look at how the clients dress or act, we don't appear too blatant, but instead, merely cast certain looks without revealing anything to the clients. We also need to be passionate about selling things since we cannot perform a decent job without it. That is for certain.
This work appeals to me for several reasons:
I get to meet and interact with a wide range of people who teach me valuable things about customer service. Furthermore, I've always understood that my life's objective is to make people happy, especially when they've spent a lot of money on a high-end fashion item without feeling like they've lost money.
PLUS, I've always understood that my life's objective is to make people happy, especially when they've spent a lot of money on a high-end fashion item without feeling like they've lost money. Last but not least, as a fashion fan, sharing tales about fashion things while selling is a great way for me to share its luxury worth with my clientele.
4.3. Bài mẫu Talk about your dream job – Singer
So, let me tell you about my ideal work.
The profession I want to do the most is that of a singer who should be renowned and have a fancy life with beautiful vehicles and a spectacular villa.
Sure, it's to sing and make money, but it's also to sing and communicate wonderful life lessons to listeners. This, I believe, is the most crucial mission of a vocalist. Another side of our work is that we sing up for various advertising campaigns as part of our contract with specific businesses in order to stimulate client demand.
To be able to execute this work, we must first have outstanding vocal abilities to sing at any pitch. Then comes appearance as the second priority. We wouldn't be able to draw more crowds to hear us sing if we didn't have a good look. What about the third? Our interpersonal abilities aid in gaining and retaining audiences. Without audiences, we are, without a doubt, zero from the inside out.
This is what I want to do for a job since the stage is where I can freely sing or display my well-trained voice from the most prestigious art school.
Furthermore, with such a voice and my songs, I hope to motivate listeners to live a more optimistic and brighter life, which is especially important among young people, who confront so many life problems in their twenties. Last but not least, because celebrities, in general, may acquire the confidence of their audiences, we have a better possibility of requesting charitable donations from them and assisting those in need.
4.4 Bài mẫu Talk about your dream job – Fashion Designer
So, let me tell you about the job I've always wanted to have.
A fashion designer's job is to collaborate with high-end fashion labels or to run a major store in the city center that attracts hundreds of people every day.
In this career, I will have to develop new clothing designs based on current fashion trends or, even better, become a trendsetter.
To execute this profession, I must be sensitive and innovative in order to keep up with current trends utilizing my observation abilities. I may need to read a lot of fashion publications, watch some fashion shows on social media, and go out more regularly to see how people dress. Finally, I believe that the most vital aspect is passion. Our lives would be meaningless if we did not have a strong desire to create fashion.
This work is ideal for me since I can establish new fashion trends that would increase the confidence of everybody who wears them. Furthermore, I would claim that my fashion design work allows clients to express themselves without using words. Whatever they wear that I create informs others who they already are.
That's all I have to say about my ideal job. Thank you for taking the time to listen.
4.5 Bài mẫu Talk about your dream job – Football Player
So, let me tell you about my ideal work.
It is a football player's responsibility to compete in several competitions and tournaments. Furthermore, after I become popular, I will be able to appear in advertising for select major businesses that support my team.
In this employment, I believe I must sign a contract with a football team and play for them for a set length of time. In football matches, I will also work with my teammates to defeat the opposition. Furthermore, I am expected to win the trophy for the squad and my nation. That is how I make my living.
To perform a successful job as a football player, I need to be in top physical shape to play everywhere, in any weather. Furthermore, this profession demands a strong collaborative spirit because no one wins this game alone. Knowing how to work with others leads to complete triumph.
This employment is ideal since it first and foremost allows me to maintain my health. Second, the tournaments and championships allow me to travel extensively. Third, I can offer national pride to my team and my country by participating in these events.
4.6. Bài mẫu Talk about your dream job – Computer Programmer
It gives me great pleasure to tell you about my ideal work.
It is the responsibility of a freelance computer programmer. It means I can work and travel whenever and wherever I choose as long as I have a laptop and an internet connection.
This employment entails creating software for other organizations that require the software to address difficulties in everyday life or in the functioning of the company. In reality, my true job is to use my computer software to make life and the operating process easier.
To be qualified for this position, I must first demonstrate collaborative abilities, as programs must be evaluated by other programmers to ensure quality.
As a result, one of the most important elements is communication. Furthermore, because computer science develops so fast each year, self-study is extremely important for keeping up with these developments. Finally, inventiveness is considered when determining whether or not my program is competitive.
I believe this work is ideal for me since I can make my client's life simpler. If all administrative tasks of a corporation were done manually, the company would not perform at its full potential. Furthermore, my position allows me to hone my soft skills such as communication, presentation, interpersonal, and negotiation.
The final and most compelling argument, in my opinion, is that this position is currently quite well compensated. I've never met any computer programmers who make a modest wage.
4.7. Bài mẫu Talk about your dream job – Marketer
Now let me tell you about my ideal work.
It is the job of a marketer who works as a white-collar employee in a large corporation.
In this position, I will be required to use marketing techniques to stimulate client demand as well as transmit the message of the product and brand to customers. I believe that the message is more significant than the demand since it ensures that buyers will continue to buy the goods in the future.
To be qualified for this position, I require a well-trained marketing course that is reasonably priced and widely available in my location. To come up with the most distinctive advertising concepts, I need to have a strong personality and perhaps be a little insane with some imagination.
This position is ideal for me since I will be in charge of determining how the brand's message will be delivered to customers so that the value of the product is adequately communicated. Furthermore, my work helps me to build a trust bridge between the brand and its clients. Trust is difficult to come by these days. We will be successful once we get it.
5. Bài mẫu Describe your ideal job part 3
5.1 What are the most difficult jobs that people do?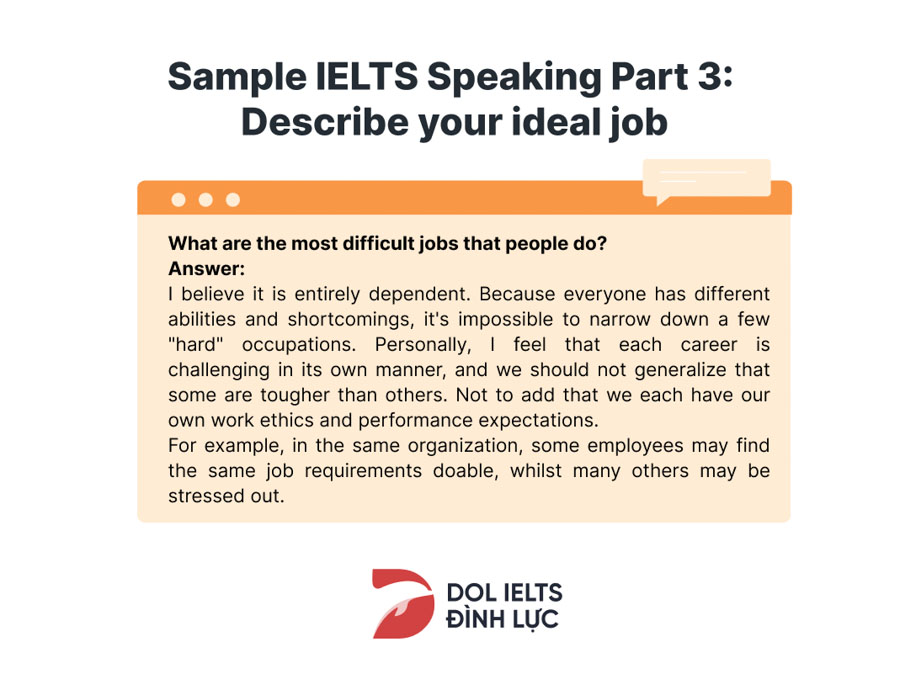 I believe it is entirely dependent. Because everyone has different abilities and shortcomings, it's impossible to narrow down a few "hard" occupations. Personally, I feel that each career is challenging in its own manner, and we should not generalize that some are tougher than others. Not to add that we each have our own work ethics and performance expectations.
For example, in the same organization, some employees may find the same job requirements doable, whilst many others may be stressed out.
5.2 Why do you think some people choose to do difficult jobs?
As someone who enjoys adventure, I can see why some people want to follow a more rigorous job path. Challenging and uncertain work might provide some of us with the fulfillment we require in our careers. When deciding on a future vocation, we must also consider our passion. Yes, it will be more difficult, but I believe that as long as we are driven and live with a sense of purpose, our lives will be far more rewarding.
5.3 Do you agree or disagree that all jobs are difficult sometimes?
Without a question. Some vocations, such as sports and nursing, may be more physically demanding than others, but any work, no matter how easy it appears, may become mentally draining at some time.
Rather than blaming it entirely on the nature of the job, I'd argue it's a phase of our life in which we must deal with a variety of concerns ranging from professional to personal in nature. When we lose our work-life balance, our performance at work and our motivation to work might suffer. So, yeah, every vocation may be taxing at times.
5.4 Is it always necessary to work hard in order to achieve career success?
This is not always true for everyone. Some people are born with the ability to excel in their fields. However, for the vast majority of us, the hard effort is the key to success. That also does not invalidate the efforts of those who are born with special abilities. I believe the effort people put into their professions may be less than what we expect from ourselves, but objectively speaking, as long as we're striving towards our personal objectives, any achievement, large or small, is the product of hard work.
5.5 Which types of jobs do you think are popular nowadays?
I think, for the most part, there has been the appearance of a wide range of new jobs. First of all, I'd have to say that IT jobs are extremely trendy nowadays, you can come across a lot of Youtube videos related to coding and computer programming. On top of that, I reckon that many people are choosing to become solopreneurs these days too. The reason is that technological advancements have lowered the bar for startups. It's very easy to start a small business nowadays on social media.
📖 DOL xin gửi bạn một vài chủ đề tham khảo khác:
IELTS Speaking part 1 topic Name
Câu hỏi thường gặp:
Gợi ý trả lời IELTS speaking: Công việc mơ ước là gì?
Bạn có thể trả lời: For me, a dream job would be one that I could be proud to say I did, and which in some small way made the world a better place for my time spent on it.
Thích điều gì về công việc?
Có thể sử dụng cụm từ: Collaboration (Sự hợp tác); Work-Life Balance (Sự cân bằng Cuộc sống - Công việc); Autonomy (Tự quản lý); Variety (Đa dạng; Culture (Văn hóa); Challenge (Thử thách); Helping Others (Giúp đỡ người khác).
Các công việc phổ biến nhất trong nước?
Có thể sử dụng các cụm từ: Government office (văn phòng chính phủ), telecommunication company (công ty viễn thông), software and graphic development company (công ty phát triển phần mềm và đồ họa), manufacturing factories (các nhà máy sản xuất).
5 khía cạnh quan trọng nhất của công việc là gì?
Respect (Sự tôn trọng)

Pay and Compensation (Thanh toán và Bồi thường)

Trust (Sự tin tưởng)

Job Security (Tính an toàn trong công việc)

Using Skills and Abilities (Sử dụng các kỹ năng và trình độ hiện có)
Vậy là DOL English đã cung cấp cho các bạn những từ vựng và cấu trúc trả lời ăn điểm cho chủ đề "describe your ideal job" IELTS SPEAKING. Mong rằng các bạn đã "bỏ túi'' được nhiều những gì các bạn cần để thể hiện tốt hơn trong phần thi nói của mình. Nếu các bạn có ý kiến đóng góp gì, đừng ngần ngại để lại một bình luận, hoặc liên hệ DOL English để được tư vấn thêm về cách phát triển kĩ năng ngôn ngữ của bản thân nhé.