IELTS Speaking Part 1: Bài mẫu & từ vựng chủ đề Tea or Coffee
Nhiều thí sinh dự thi vẫn chưa thể trả lời trọn vẹn hoàn toàn những câu hỏi liên quan đến chủ đề Tea or Coffee IELTS Speaking Part 1 . Lí do là các bạn chưa chuẩn bị kĩ từ vựng và cách trả lời cho những câu hỏi này. Trong bài viết này, DOL English sẽ hỗ trợ các bạn trả lời những câu hỏi liên quan đến chủ đề này, giúp các bạn "xử gọn" những câu hỏi này nếu bắt gặp trong phòng thi IELTS speaking nhé.
1. Mẫu câu trả lời cho các câu hỏi chủ đề Tea or Coffee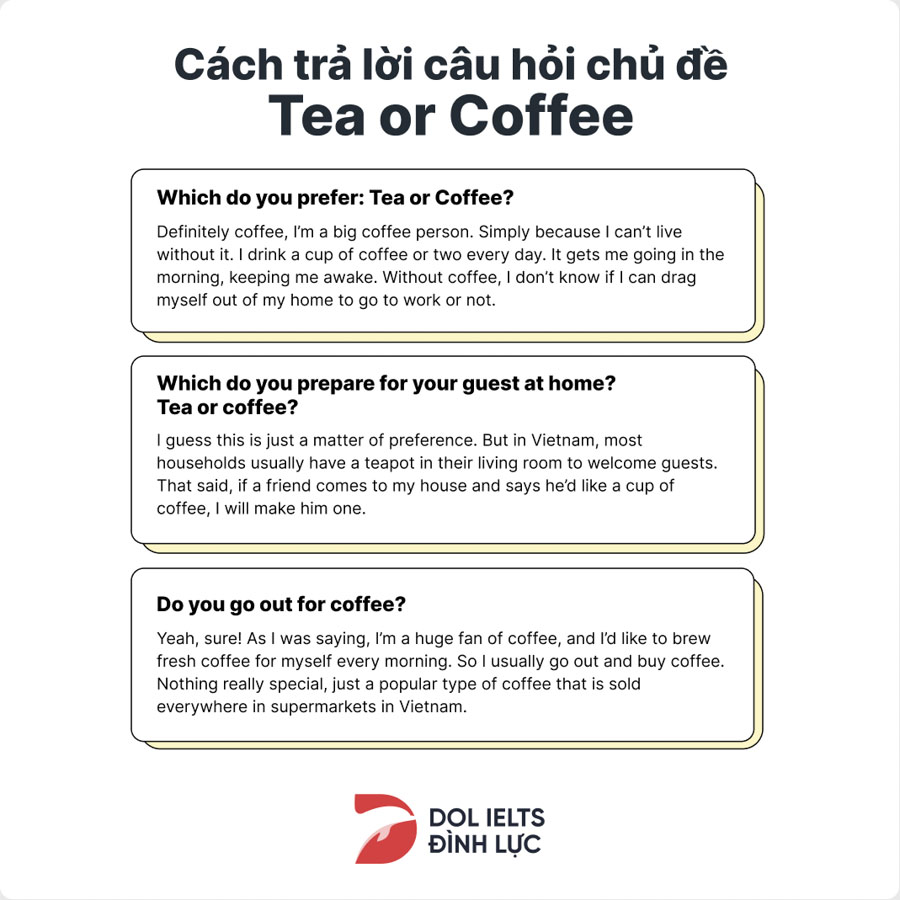 1.1 Which do you prefer: Tea or Coffee?
Definitely coffee, I'm a big coffee person. Simply because I can't live without it. I drink a cup of coffee or two every day. It gets me going in the morning, keeping me awake. Without coffee, I don't know if I can drag myself out of my home to go to work or not. 
1.2 Which do you prepare for your guest at home? Tea or coffee?
I guess this is just a matter of preference. But in Vietnam, most households usually have a teapot in their living room to welcome guests. That said, if a friend comes to my house and says he'd like a cup of coffee, I will make him one.
1.3 Do you go out for coffee?
Yeah, sure! As I was saying, I'm a huge fan of coffee, and I'd like to brew fresh coffee for myself every morning. So I usually go out and buy coffee. Nothing really special, just a popular type of coffee that is sold everywhere in supermarkets in Vietnam.
1.4 Do your people in your country give tea or coffee as a gift?
Honestly speaking, I've never bought coffee or tea as a gift for anyone, but my father does. Every once in a while, he would buy some premium coffee or tea to gift his friends. I guess this is a pretty good idea, I try to get someone some good coffee when it's their birthday because I always have trouble thinking about what to buy for one's birthday. 
1.5 Is it popular to drink tea and coffee in your country?
Absolutely yes! This might vary depending on certain regions. But drinking tea or coffee is kind of a norm in Vietnam. For myself, for instance, drinking coffee is part of my morning ritual. Hot coffee or tea is a really good way to kick-start your morning. Right?
1.6 When was the first time you tried coffee or tea?
Wow! This is a tough question because I've been drinking these beverages for a long time, so long that I can't remember when was the first time. I guess I've drunk coffee since I graduated from university and got my first job. I usually had to wake up very early in the morning to get to work. So I had no way but to drink coffee every day to stay awake. 
1.7 When was the last time you drank tea or coffee?
This morning, before going to this center to take the test haha. Yep, that's my problem, I drink an awful lot of coffee. It's not healthy, I know. But without that precious cup of joe, I don't know if I have enough energy to do this or not. 
1.8 Do you like drinking coffee (or tea) at home or at a coffee (tea) shop?
Each has its own pros and cons, right? On the one hand, drinking coffee at home is convenient and costs less than buying coffee from a cafe. With that being said, I love going to coffee shops once in a while because I really enjoy the vibe there. People minding their own business, watching the sunrise while sipping coffee. Oh, nothing is better than that, right?
1.9 Why do some people dislike coffee (tea)?
I guess because they have problems with caffeine. My mother, for example, struggles to go to sleep every night if on that day she drinks coffee or tea, even in the smallest amount. Others, on the other hand, might prefer to drink water, because they're more conscious about their health.
Đừng nói " đó là một câu hỏi thú vị/ khó khăn trong IELTS Speaking Part 1. Tôi cam đoan không có câu hỏi nào là thú vị hay khó khăn trong phần thi này. Tất cả đều dễ dàng và liên quan đến cuộc sống hàng ngày của bạn. Việc thêm các cụm từ vô nghĩa có thể khiến bạn mất điểm trong phần thi Speaking.
2. Từvựng chủ đề Tea or coffee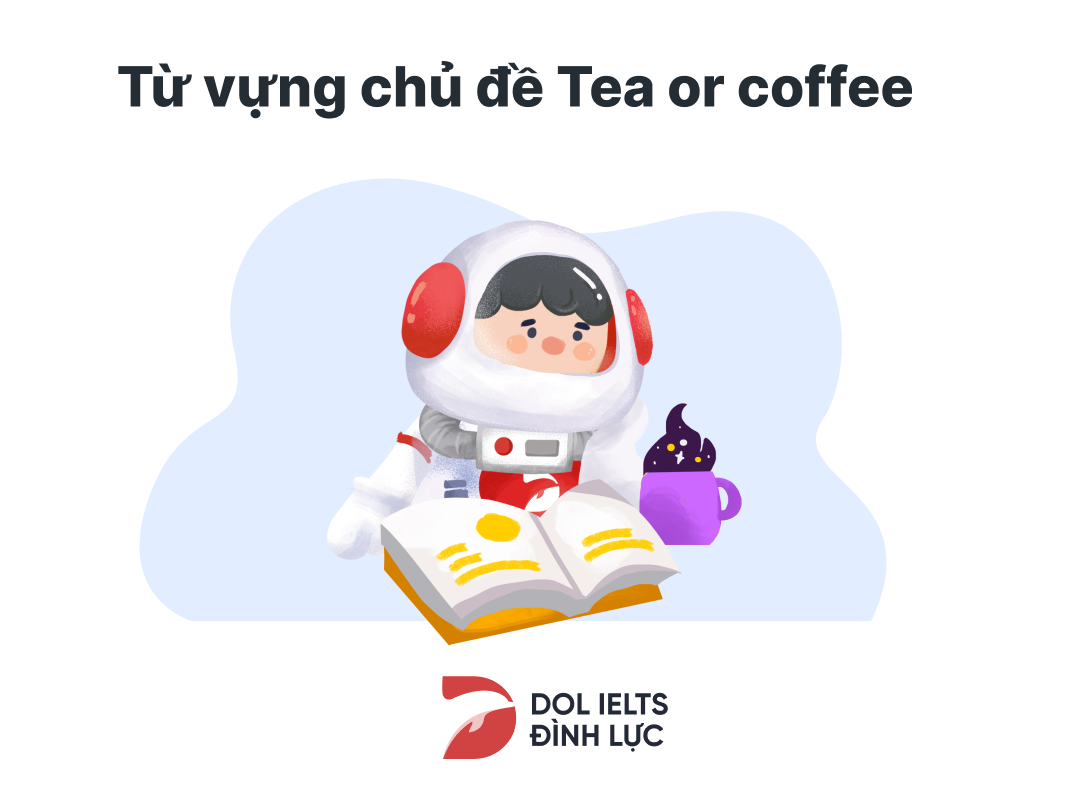 Drag somebody out (v): Kéo ai đó ra khỏi đâu đó

A matter of preference: Tuỳ vào sở thích cá nhân

Teapot (n): Bình trà, ấm trà

Brew coffee/tea: Pha, nấu trà hay cà phê

Every once in a while (idiom): Thỉnh thoảng

Premium (adj): Thượng hạng

A norm (n): Một điều bình thường

Beverage (n): Thức uống

Precious (adj): Quý giá

Pros and cons : Lợi ích và hạn chế

That said = With that being said: Tuy nhiên

Sip (v): Nhấp môi

Conscious about something (adj): Quan tâm đến điều gì đó. 
Vậy là chúng ta đã cùng nhau "xử lí" tất cả những câu hỏi thường ra nhất trong phòng thi cho chủ đề "tea or coffee" IELTS speaking part 1. Mong rằng các bạn đã lĩnh hội được những cấu trúc trả lời và từ vựng hay để áp dụng vào bài thi nói của mình. Hãy để lại bình luận cho bài viết nếu các bạn có bất kì thắc mắc nào nhé!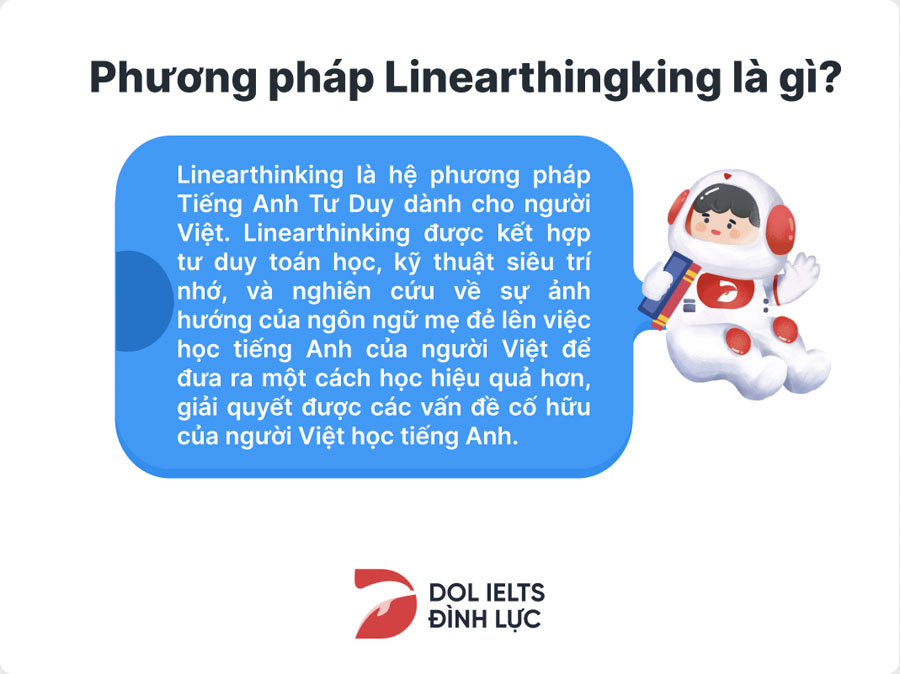 Nếu các bạn chưa rõ làm thế nào để cải thiện trình độ tiếng Anh của bản thân, hoặc đang hoang mang không biết nên đặt niềm tin của mình ở đâu, hãy liên hệ DOL English để được hỗ trợ tư vấn miễn phí về trình độ tiếng Anh hiện tại của bản thân và lộ trình khoá học được tối ưu hoá cho từng cá nhân dựa trên phương pháp độc quyền Linearthinking nhé!
📖 DOL xin gửi bạn một vài chủ đề tham khảo khác:
Câu hỏi thường gặp:
1 số câu hỏi thường gặp về chủ đề Tea Or Coffee IELTS Speaking Part 1
Do you prefer tea or coffee?

Do you prepare tea or coffee for guests at home?

Why do you prefer tea to coffee?

What do you enjoy about coffee?

What is your Favourite drink?

Why tea is a popular drink?

What is difference between coffee and tea?

What are 10 benefits of coffee?

What is the main use of coffee?
Gợi ý trả lời câu hỏi: What is the main use of coffee?
People most commonly drink coffee to increase mental alertness. Coffee is also used for diabetes, cancer, heart disease, high blood pressure, dementia, and many other conditions, but there is no good scientific evidence to support most of these uses.
Gợi ý trả lời câu hỏi: Why is tea so important?
Numerous studies have shown that a variety of teas may boost your immune system, fight off inflammation, and even ward off cancer and heart disease. While some brews provide more health advantages than others, there's plenty of evidence that regularly drinking tea can have a lasting impact on your wellness.
Từ vựng về chủ đề Tea Or Coffee IELTS Speaking Part 1
Daily habit: Thói quen hàng ngày; Preference: Sở thích; Can't stand the bitterness: Không thể chịu đựng được vị đắng; Caffeine: Chất Cafein; Stay awake: Mất ngủ; Coffee bean: hạt cafe; Coffee powder: cafe bột; Filter: phin để pha cà phê; Decaffeinated coffee: loại cà phê không chứa chất cafein; Coffee processing line: dây chuyền sản xuất Cà phê.

Strong: đặc; Weak: loãng; Skimmed milk: sữa tươi không béo; Instant coffee: cà phê hòa tan; Condensed milk: sữa đặc; Double shot: gấp đôi lượng cafe; Paper Cup: ly giấy; Milk on the side: sữa dùng kèm với cafe; Sugar syrup: nước đường; White sugar: đường trắng; Brown sugar: đường nâu; Paper napkin: khăn giấy; Still water: nước uống không ga; Sparkling water: nước khoáng có ga.