7 bài mẫu IELTS Writing Task 2 band 9 hay nhất 
Đối với những bạn học IELTS thì Writing được xem như là "cơn ác mộng" vì những yêu cầu của kỹ năng này rất khắc khe, đồng thời đòi hỏi thí sinh phải có kiến thức ngôn ngữ và kiến thức xã hội sâu và rộng. Do đó, để có được band 9 ielts writing task 2 là một điều không hề dễ dàng. Trong bài viết này, DOL sẽ cung cấp cho bạn những bài viết chất lượng, đạt được band điểm cao để giúp bạn có nguồn tài liệu tham khảo trong quá trình luyện tập nhé!
1. Chủ đề: Education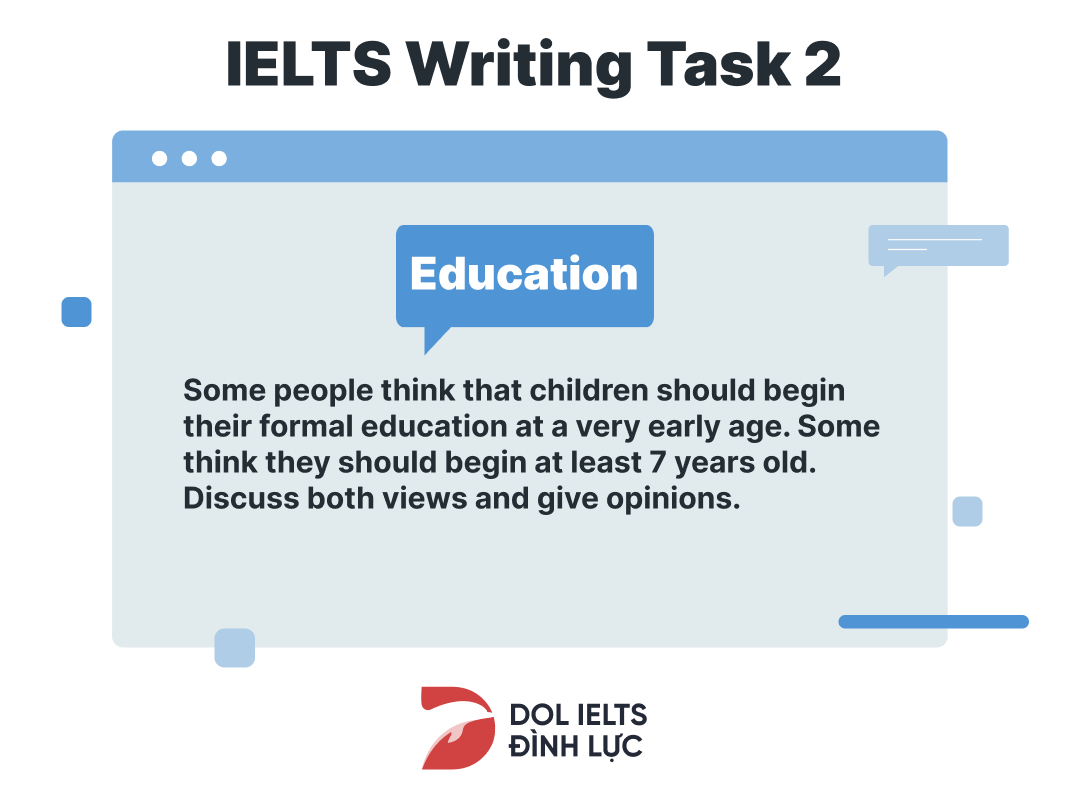 Sample: 
There has been recent debate surrounding the age at which children should begin formal education: while some people argue that children should start as early as 7 years old, others believe they should begin even earlier. I personally contend that although starting early might be economically beneficial for the family in the short run, it might ultimately be a futile endeavour as the children would be unable to absorb the information in the long run.
One could argue that starting children on their path of formal education sooner may help support parents financially. Parents often struggle to arrange babysitters and have to resort to expensive daycares that are of no real benefit to them or their children, and if schooling started earlier, this would be financial stress they would not have to cope with. Primary education in many Western countries, for example, is free for this reason: it allows parents to save money to spend on other things for their family.
However, as children are still in the early developmental stages for the first few years of their lives,  they would undoubtedly lack the ability to understand the things taught to them to a sufficient degree. More specifically, since children may not be capable of recalling their lessons, time and money spent on them would simply be wasted. Most adults today, for example, will find it almost impossible to recall what they have learnt in primary school. It could be argued that these early years of a children's life should instead be spent being emotionally bonded with the parents instead of being taught skills they would forget later on anyway.
Ultimately, I argue that despite short-term economic benefits to the family, the inability of young children to learn what is presented to them means that they should not start education at too early of an age.
Feedback: 
Task response: 9 

Coherence and cohesion: 9

Lexical resource: 9

Grammatical range and accuracy: 9
2. Chủ đề: Technology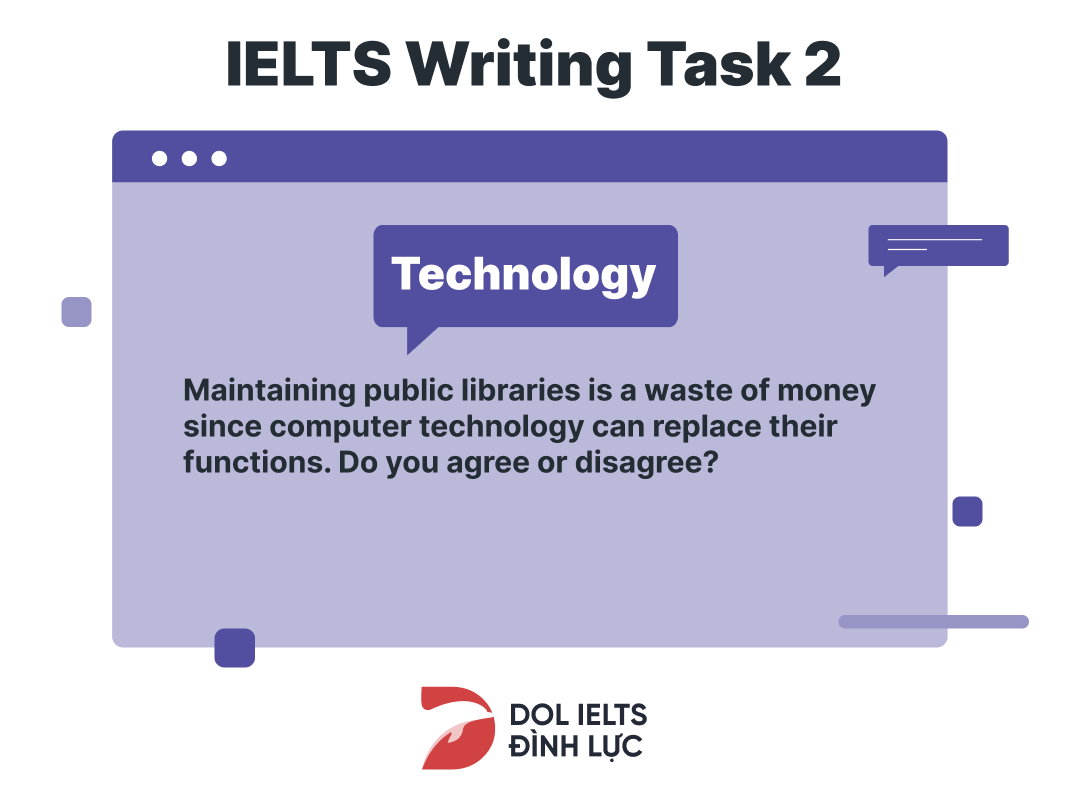 Sample: 
Some people opine that people can do away with traditional libraries because technology has given us the facility of virtual or online libraries. Although technology has reduced our need to go to the libraries, traditional libraries can never become redundant and maintaining them is not a waste of money.
On the one hand, it can be a waste of money to keep libraries open. The advent of new technologies like computers and the Internet has transformed traditional libraries from venues containing a large number of printed documents into paperless libraries containing only digitized documents. This has led to the creation of virtual libraries in which the user has access to information at any time and anywhere in the world by using the modern tools of communications, such as computers and Internet facilities. Therefore, it is unnecessary to spend money on traditional libraries because fewer and fewer users use them.
However, libraries still play an important role these days. Firstly, a person goes to a library not only to search and get information from books but also to sit and study there. The peaceful and scholarly ambiance of the library helps one to concentrate more on one's work and study. Secondly, virtual libraries can be accessed only by those who are computer literate. For elderly or disadvantaged individuals who rarely have a chance to be exposed to cutting-edge technologies like computers or smartphones, it is much more challenging to access information online than going to a traditional library.
In conclusion, advancement should be welcomed in every field but the importance of the libraries for their fundamental role cannot be put aside, and funding them is not wasting financial resources.
Feedback:
Task response: 9 

Coherence and cohesion: 9

Lexical resource: 9

Grammatical range and accuracy: 9
3. Chủ đề: Government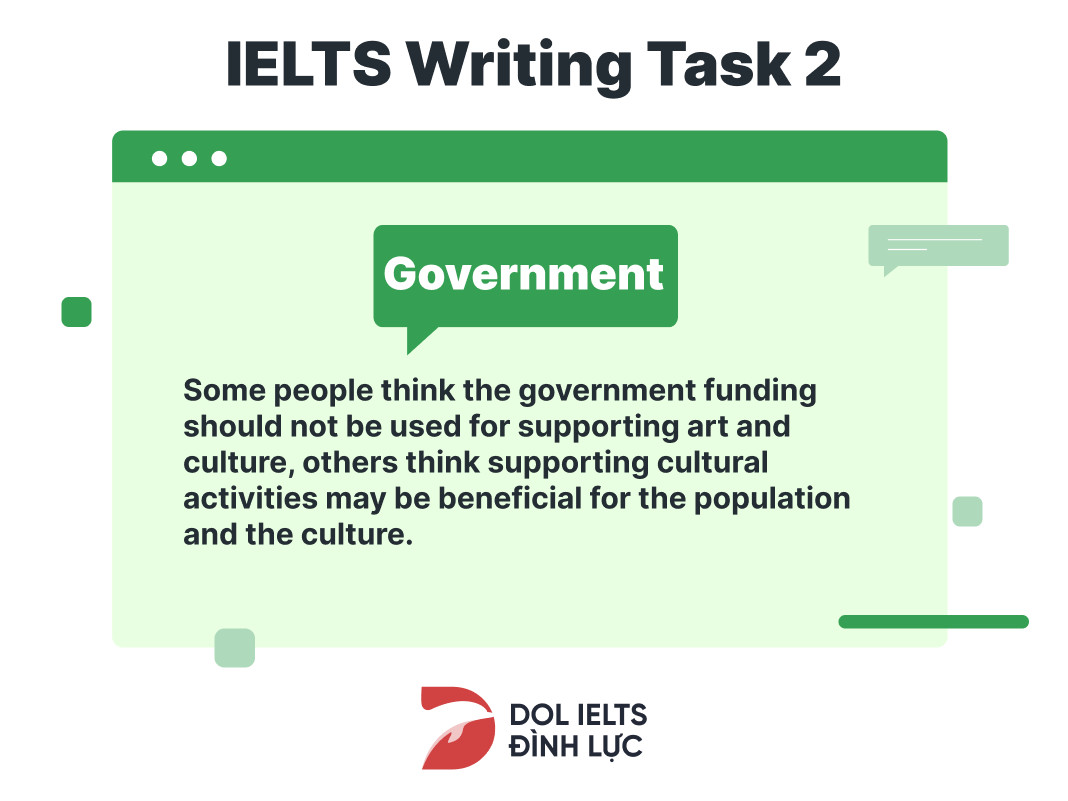 Sample: 
Regarding cultural activities, some people propose a complete cut in government funding, while others argue that culture is an indispensable aspect of our society. I strongly support the latter view because we can significantly benefit from cultural activities.
Works of art such as songs or poems are sometimes deemed unnecessary because they do not satisfy any materialistic need. To some people, it seems unfair to use the government budget for recreational purposes while millions are still living in poverty. Proponents of this view demand the government stop funding art and cultural programs; this way, people wanting leisure will have to pay for their own needs. However, I would say cultural activities are so important to our society; they warrant dedicated support at a national level. 
First, it is simply wrong to think that art and culture do not contribute to social welfare. Aside from the decorative value, artistic works also have their practical functions; an aesthetic building embraces both functionality and harmony with the surrounding area, for example. Second, art and cultural activities are tools to promote social cohesion - the bond between people and people. Throughout history, cultural festivals such as Halloween have played a pivotal role in strengthening the community and providing entertainment. Therefore, it is safe to say that cultural funding by the government brings benefits to not only the rich but also the poor.
To summarize, while some people oppose government spending on cultural activities, I still side with the view that art and culture are essential to our life.
Feedback: 
Task response: 9 

Coherence and cohesion: 9

Lexical resource: 9

Grammatical range and accuracy: 9
4. Chủ đề: Health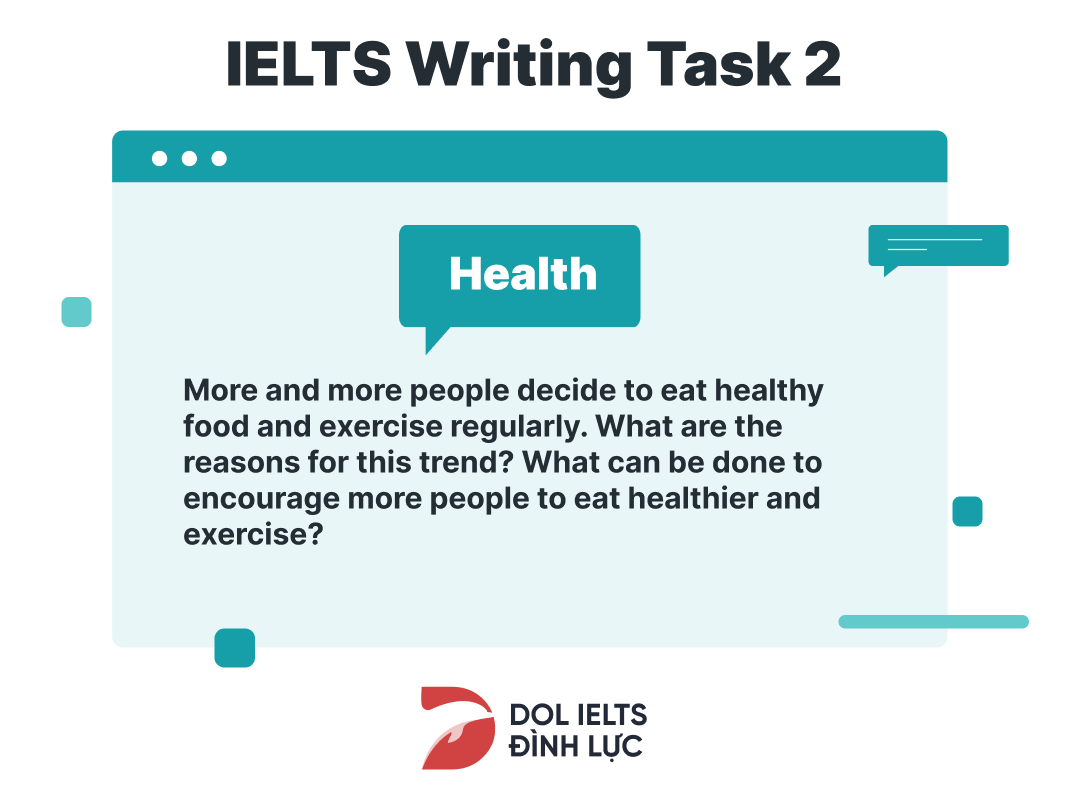 Sample: 
A growing number of individuals have started taking up a healthy diet and regular exercising, which could have positive effects on their overall well-being. In this essay, I will discuss some possible causes, as well as methods that can be adopted to encourage this trend. 
There are two reasons behind people's increasing preference for working out and a balanced diet. First of all, individuals nowadays are more educated about the connection of their lifestyle with their well-being. Information is abundant and people can get all kinds of knowledge instantly, including the impacts of nutrient intake and physical activities on their bodies. Consequently, habits which can contribute to a healthier life have gained considerable popularity. Secondly, living conditions have improved, thus, individuals are more likely to spend on matters that are of secondary importance like looks. It is a fact that a nutritious diet is more costly than fast foods, therefore, only people who are beyond the threshold of livelihood can spend their money on bettering their lifestyles.
As consuming healthy foods and exercising are beneficial to individuals' well-being, a plethora of methods can be employed to incentivize people's commitment to this trend. First, making physical activities mandatory in a school and an office setting can help convert sedentary people into more active individuals. No matter how long the exercise is, as long as it gets individuals up and working out, over time, they will form the habit of doing physical activities. Moreover, the government should offer free exercise facilities, such as communal gyms to all citizens to encourage less fortunate people to participate. Last but not least, decreasing the tax on healthy foods can support people's intake of these kinds of foodstuff, instead of veering toward unhealthy choices, such as fast food.
All in all, the improved living conditions and easy access to information are the causes behind the increased interest in healthy lifestyles. Moreover, as this is a positive trend, measures can be taken to encourage its widespread adoption.
Feedback: 
Task response: 9 

Coherence and cohesion: 9

Lexical resource: 9

Grammatical range and accuracy: 9
5. Chủ đề: Advertising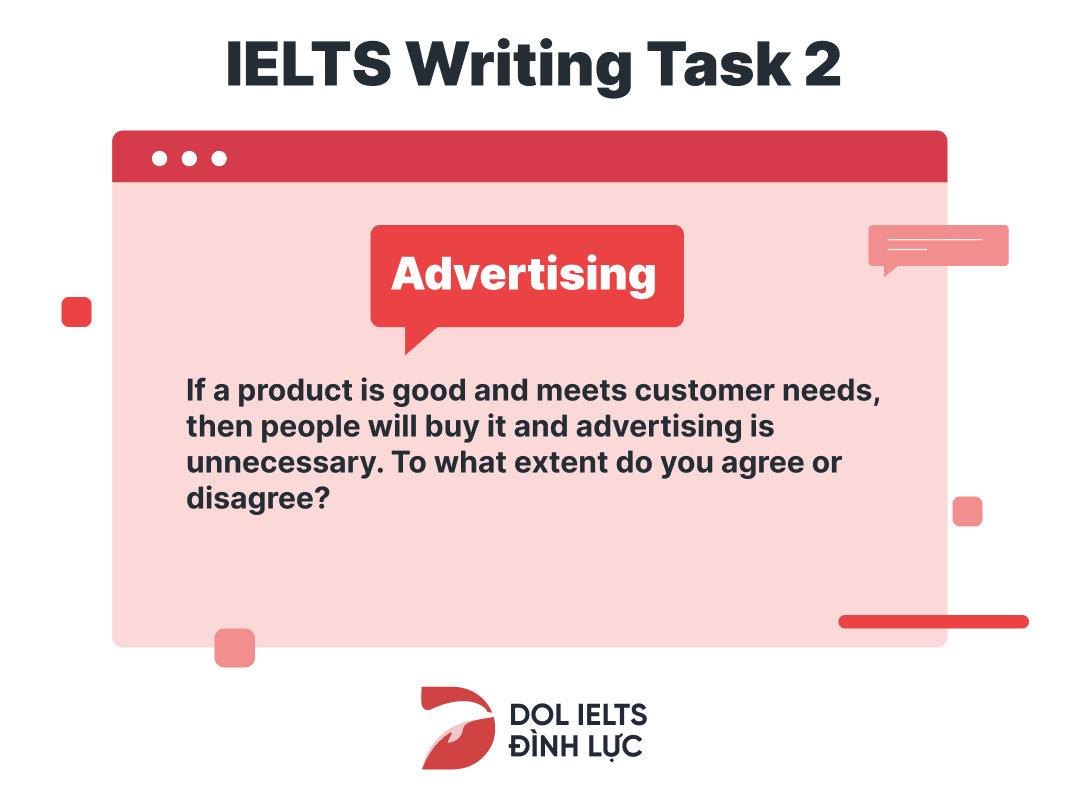 Sample: 
There are many who argue that if a product adequately meets the demands of customers, there is no need for a company to promote it through advertising. In this essay, I seek to argue that I overall disagree with this sentiment, since advertising can create differentiation from other products or promote certain lifestyles, which in the end increases products' attractiveness to consumers.
On the one hand, it could be argued that advertising might not be necessary for certain special products as word of mouth might be enough to increase its sales, given that it fulfills customer needs. Those who have tried a unique product and are satisfied with it might voluntarily recommend it to their friends and colleagues. This is, for instance, how many companies operating in niche markets operate, as their consumer base is too small for mass advertising campaigns to be effective. Furthermore, it could also be said that in the internet age, potential consumers can simply search the internet for products that are congruent with their needs. For example, restaurants in a small area might not need to advertise to local inhabitants, since they can simply search on Google Maps and find the restaurants themselves. 
On the other hand, one might contend that advertising is still necessary beyond showcasing the functionality of a product. In markets where there are many different brands for the same type of item, advertising can be the element which can help a customer make their final decision. For instance, although Coca Cola and Pepsi are functionally quite similar (i.e. they are both soft drinks), both brands still spend billions on advertising a year in order to make themselves seem unique. In addition, advertising could also be useful in associating a product with a certain lifestyle. For example, advertisements by perfume brands such as Hugo Boss often depict a luxurious way of living that can be obtained upon buying their product - this means that the consumer is buying the product not only for its functional value but the perception around it.
In conclusion, I argue that while for some small companies, advertising would be an unnecessary financial burden since their customer base is small enough that this would not be necessary. Nonetheless, for most products which caters to a larger audience, I believe that it needs to not only be useful to consumers but also create a certain image, and this is why advertising would still be crucial for its success.
Feedback: 
Task response: 9 

Coherence and cohesion: 9

Lexical resource: 9

Grammatical range and accuracy: 9
6. Chủ đề: Tourism
Sample: 
More inexpensive methods of travelling internationally has allowed countries to open their borders to international tourists, which have led to intense debate about the merits and failings of this trend. Personally, I believe that increased global tourism has done more harm than good, for it has improved economies at the cost of cultures' individuality.
On the one hand, one could argue that tourism brings in significant revenue and can thus aid economic development. Tourists when visiting other countries spend a huge amount of money on hotels, food, and shopping, thereby funding small businesses and supporting jobs. For example, the hospitality sector, particularly in locales such as the Mediterranean, brings in millions of euros a year. Tourism here serves as a vital source of revenue, and could be viewed to be hugely beneficial for job creations and public services in these areas.
On the other hand, mass travel may often erode the very culture it seeks to showcase to the world. This is because the tourism companies who enter a new market might start building hotels and other services that end up pushing smaller, local businesses out of the said market, until very little of the "authentic experience" remains. For instance, many cities in South East Asia, such as Sapa and Phuket, could be said to have lost their uniqueness and instead have become replicas of other tourist towns. Over time, these cities are likely to lose their charm and perhaps also their visitors.
Overall, I argue that the economic effects of tourism does not outweigh the loss of culture, and as such, I believe that increased international tourism has been on the whole undesirable.
Feedback: 
Task response: 9 

Coherence and cohesion: 9

Lexical resource: 9

Grammatical range and accuracy: 9
7. Chủ đề: History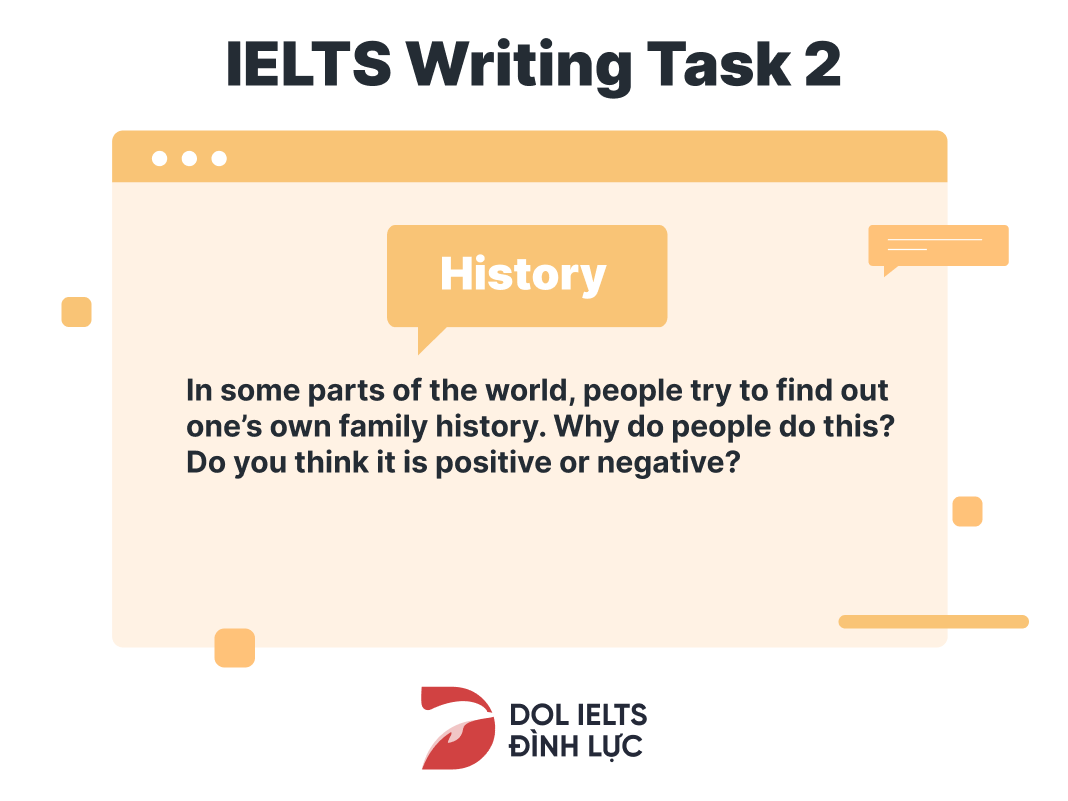 Sample: 
Ancestral lineage research has been argued by many people to be important in recent times. In this essay, I will seek to show why individuals in certain regions make an endeavor in knowing more about their families and reach an accord that the phenomenon is positive.
The trend of discovering family history can be explained by the urge to get closer to one's own family and the desire to learn about the health records of the family. Concerning the former reason, it is true that ancestral lineage research enables the reconnection of family members. This could potentially be of great comfort to orphans or those who do not know who their parents are. DNA tests, for example, have helped many people without family to track down their long-lost relatives and discover brothers and sisters they never knew they had. Turning to the second point, knowing the medical history of a family enhances the understanding of genetically inheritable medical conditions such as asthma, obesity, and diabetes. Therefore, people would take appropriate action to identify ways to mitigate the adverse effects of diseases.  
From my perspective, the overwhelming desire of finding family history can be deemed positive due to its role in preserving familial culture and customs and motivating individuals to overcome life's troubles. Chief among these is that the discovery of ancestry plays a crucial role in maintaining the culture and traditions of one's family. Once the descendants are fully aware of the significance of cultural values passed down from previous generations, they would show more willingness in preserving as well as promoting those intangible merits. Moreover, a means of self-motivation can be regarded as one of the worth-mentioning advantages of examining family roots. During the discovery, people would be more mindful of obstacles that their ancestors overcame, thereby driving them to be bold and brave in dealing with issues in life.  
In conclusion, research on ancestors is prompted by the desire to form a close bond with former generations and to know about familial health records. I would opine this development positive due to its benefits in maintaining culture and boosting individuals' will in life. Feedback: 
Task response: 9 

Coherence and cohesion: 9

Lexical resource: 9

Grammatical range and accuracy: 9
Hãy đọc kỹ toàn bộ yêu cầu đề bài để có câu trả lời đầy đủ nhất. Đây là bước đầu tiên dễ dàng để đạt điểm IELTS Writing Task 2 cao nhất, cũng là một bước dễ bỏ lỡ. Và nó rất quan trọng! Có thể bạn viết tốt nhưng nếu không đọc và giải đáp đầy đủ câu hỏi thì bạn vẫn bị điểm thấp trong bài thi IELTS Writing Task 2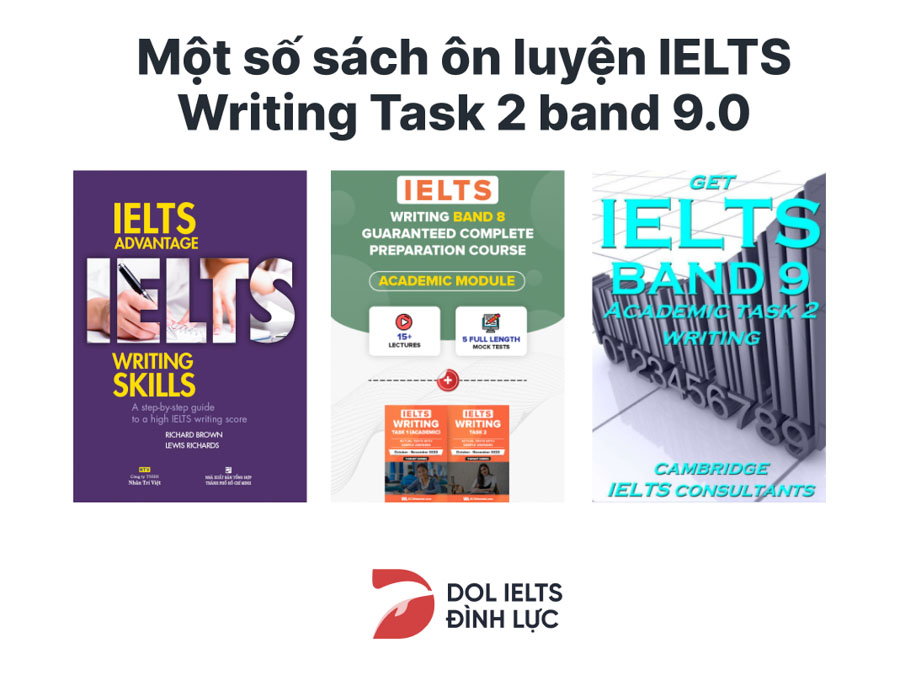 8. Các câu hỏi thường gặp
Có thể đạt được band điểm 9 Writing IELTS không?
Có. Điểm 9 trong IELTS là hoàn toàn khả thi nếu đáp nếu thí sinh đáp ứng được các kỳ vọng của giám khảo cũng như thể hiện được kỹ năng sử dụng tiếng anh thạo
Làm thế nào để viết một bài luận band điểm 9
Trong IELTS Writing, để đạt được band điểm 9, thí sinh cần giải quyết tất cả các phần của nhiệm vụ, viết mạch lạc, cấu trúc đoạn văn một cách khéo léo và trình bày câu trả lời được phát triển đầy đủ với các ý mở rộng.
Trong IELTS Writing, Task 2 chiếm bao nhiêu điểm so với Task 1?
Task 2 có giá trị gấp đôi số điểm của Task 1. Vì vậy, thi sinh hãy đảm bảo rằng mình dành đủ 40 phút để viết bài luận Task 2.
Có cần đưa ra ý kiến của mình trong IELTS Writing hay không?
Chỉ đưa ra ý kiến ​​nếu đề bài yêu cầu.
Ví dụ, Bạn đồng ý hay không đồng ý? Đây rõ ràng là yêu cầu ý kiến của thí sinh. Đừng đưa ra ý kiến nếu đề bài không yêu cầu. Hãy đọc kỹ hướng dẫn.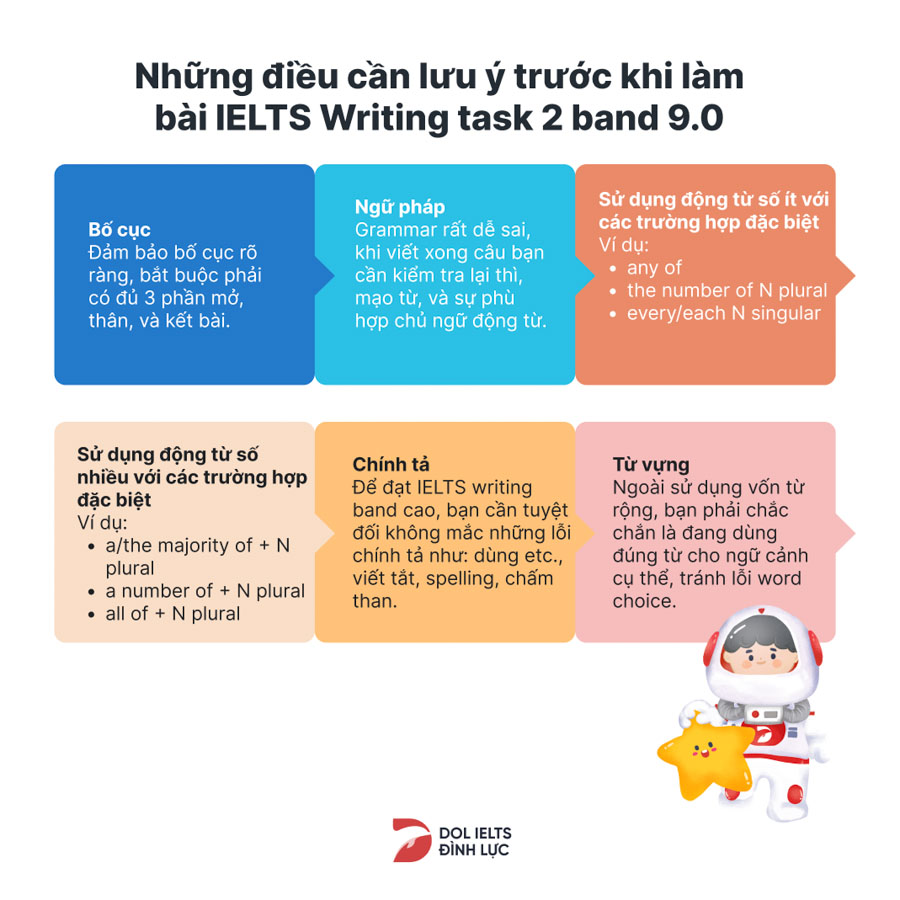 Hy vọng bài viết trên sẽ là nguồn tham khảo hữu ích cho các bạn trong quá trình ôn luyện IELTS Writing và band 9 IELTS Writing Task 2 sẽ không còn là "giấc mơ" đối với nhiều bạn nữa nhé!