Gợi ý 30 bài mẫu trả lời chủ đề IELTS Speaking Food
IELTS Speaking about food có thể xem như là nỗi ám ảnh của khá nhiều thì sinh do chưa có sự chuẩn bị kỹ càng về từ vựng, cấu trúc, cũng như là ý tưởng để trả lời.Thông qua bài viết này, DOL sẽ giúp các bạn củng cố lại các từ vựng thuộc chủ đề này, hướng dẫn các bạn cách trả lời để biến chủ đề IELTS Speaking Food trở nên dễ dàng hơn bao giờ hết.
1. Từ vựng chủ đề thức ăn 
Trước hết, hãy cùng DOL điểm qua một số từ vựng, và cụm quan trọng cần thiết để sử dụng cho phần thi speaking about food nhé: 
1.1 Khai vị 
Starter (n): món khai vị

Salad (n): xà lách

Soup (n): súp

Bread (n): bánh mì

Cheese (n): phô mai

Butter (n): bơ

Biscuit (n): bánh quy
1.2 Món ăn chính 
Main course (n): món chính

Rice (n): cơm

Noodle (n): mì

Spaghetti (n): mì Ý

Chicken (n): thịt gà

Duck (n): thịt vịt

Pork (n): thịt heo

Beef (n): thịt bò

Lamb (n): thịt cừu

Turkey (n): gà tây

Bacon (n): thịt muối xông khói

Egg (n): trứng

Sausage (n): xúc xích

Seafood (n): hải sản

Shrimp (n): tôm

Crab (n): cua

Lobster (n): tôm hùm

Mussel (n): vẹm

Scallop (n): sò điệp

Oyster (n): hàu

Salmon (n): cá hồi

Tuna (n): cá ngừ

Catfish (n): cá da trơn

Sole (n): cá bơn
1.3 Món tráng miệng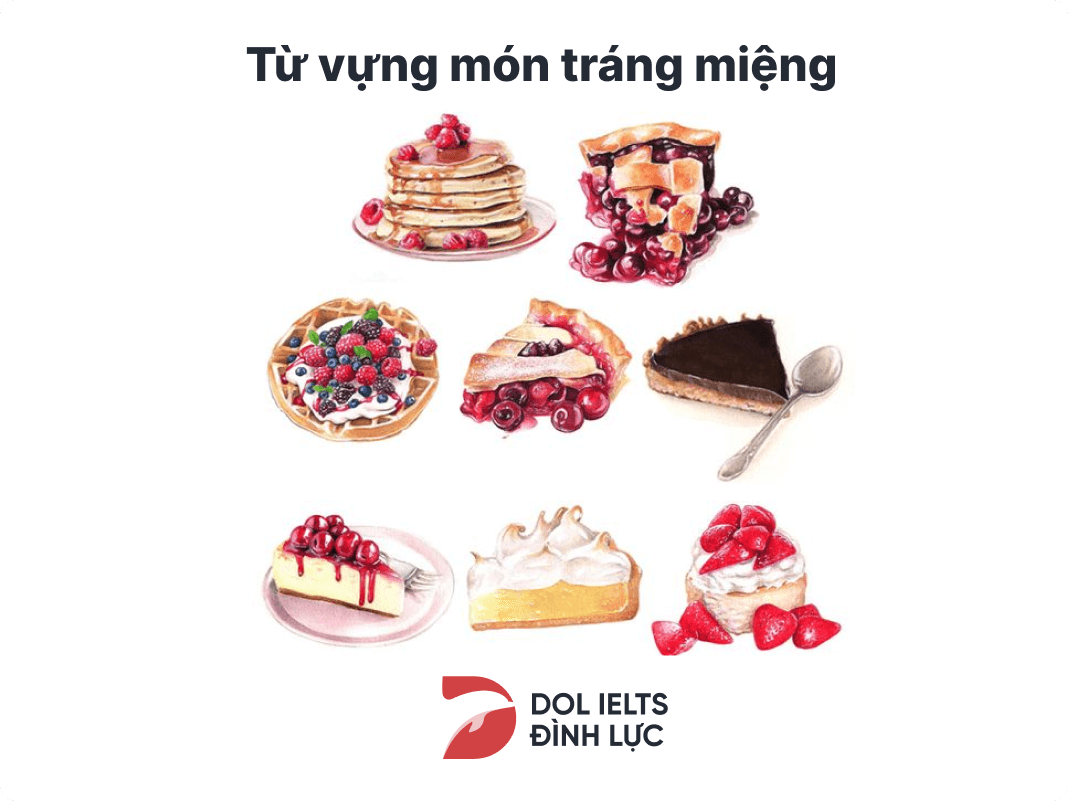 Dessert (n): món tráng miệng

Ice-cream (n): kem

Yogurt (n): sữa chua

Jelly (n): rau câu, thạch

Fruit (n): trái cây

Cheese cake (n): bánh kem phô mai

Brownie (n): bánh sôcôla hạnh nhân

Pudding (n): bánh pudding

Cookie (n): bánh quy dẹt

Juice (n): nước ép

Smoothie (n): sinh tố

Bubble tea (n): trà sữa trân châu

Milkshake (n): sữa lắc

Soft drink (n): nước uống có ga

Cocktail (n): nước uống trái cây có cồn

Mocktail (n): nước uống hỗn hợp trái cây không chứa cồn

Herbal tea (n): trà thảo mộc

Black coffee (n): cà phê đen

White coffee (n): cà phê sữa

Instant coffee (n): cà phê hoà tan

Filter coffee (n): cà phê phin

Espresso (n): cà phê đậm đặc

Latte (n): cà phê pha với sữa nóng và có váng bọt sữa
1.4 Collocations và Idioms 
To raise our glass: nâng ly chúc mừng

To have a sweeth tooth: hảo ngọt

To eat like a horse: ăn rất nhiều

To grab a bite to eat: ăn nhanh, ăn vội vàng

To eat out: ăn ở bên ngoài

My cup of tea: gu, sở thích

To be mouth-watering: trông rất ngon, tạo cảm giác thèm ăn

Processed food: đồ ăn chế biến sẵn

Home-cooked food: đồ ăn nhà làm

Organic food: đồ ăn/thực phẩm hữu cơ

Gourmet food: thực phẩm hảo hạng

Leftover food: đồ ăn thừa, còn dư

Food poisoning: ngộ độc thực phẩm

Food hygiene: vấn đề vệ sinh thực phẩm

Food additive: gia vị đồ ăn

A slap up meal: một bữa ăn lớn

To wine and dine: chiêu đãi ai đó bằng 1 bữa ăn thịnh soạn

To follow a recipe: làm theo công thức nấu ăn

Food safety: an toàn thực phẩm

Food consumption: sự tiêu thụ thực phẩm

Traditional cuisine: ẩm thực truyền thống

Authentic local speciality: đặc sản vùng miền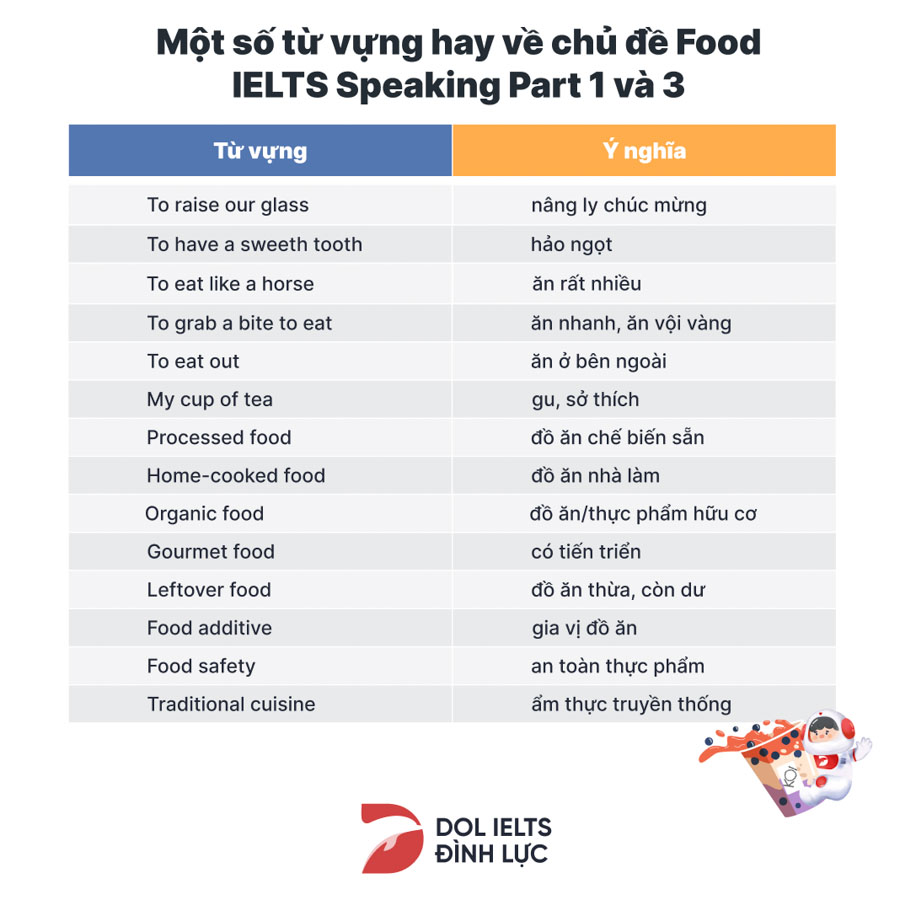 2. Mẫu câu trả lời IELTS Speaking chủ đề thức ăn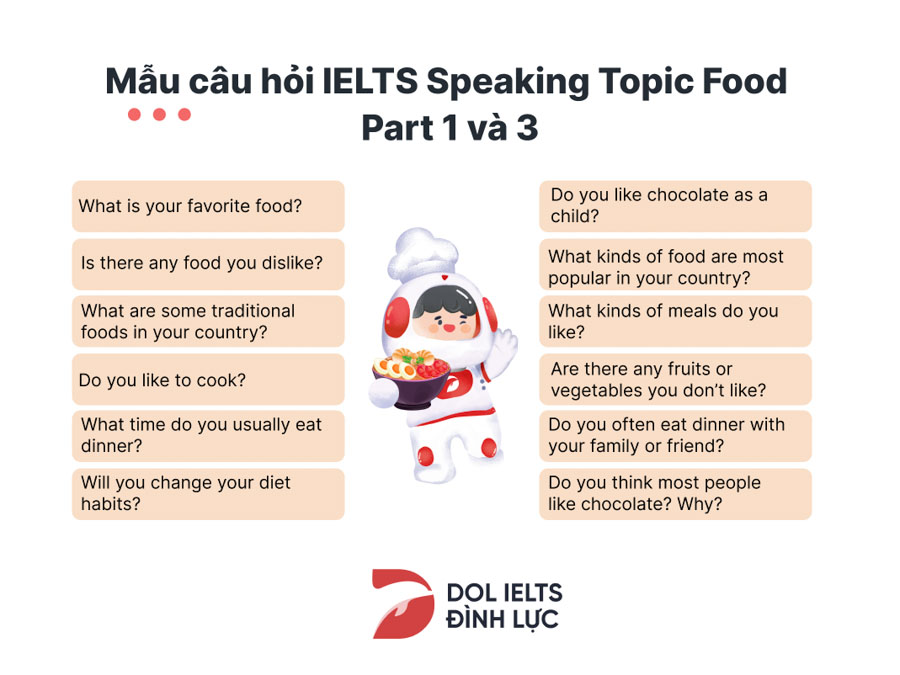 Sau khi đã trang bị được kha khá một vốn từ vựng nhất định rồi. Hãy cùng DOL giải quyết hàng loạt câu hỏi liên quan đến chủ đề về food, đặc biệt là trong 2 phần speaking part 1 và part 3 nào
2.1 What is your favorite food?
Well, I would say since I have a sweet tooth, I am a huge fan of desserts. But if I had to choose one, it would be cheesecakes. I usually follow a recipe I learned from the Internet. It has quite a few ingredients, but the process is not complicated. On special occasions, I usually make cheesecakes to serve my family after dinner.
have a sweet tooth: hảo ngọt

recipe: công thức nấu ăn

ingredients: thành phần

special occasions: dịp đặc biệt
2.2 Is there any food you dislike?
I'm not a picky person, so I don't have any problems with food. However, raw fish such as salmon or tuna sashimi is not my cup of tea. I can't stand anything stinky or fishy.  I would prefer them to be well-cooked in a hot pot or something like that. 
Picky: khó tính

Raw: đồ sống

My cup of tea: sở thích

Fishy: tanh
2.3 What are some traditional foods in your country?
Well, Vietnam has a very rich cultural diversity, which means that there are various types of traditional food. To name some, there are Chung cake, spicy beef noodle soup, or sticky rice. Actually, every region has its own local speciality, but I do believe that Pho is still the most popular one among other dishes. It's very well-seasoned and can be served for any mealtime during the day.
Cultural diversity: sự đa dạng văn hoá

Local speciality đặc sản địa phương

Well-seasoned: được nêm đậm vị

Mealtime: giờ ăn
2.4 Have you always liked the same food?
Not really. I mean, the food I liked as a child and the food I like now are totally different. I believe it's a normal thing though, just as a result of growing up
totally different: hoàn toàn khác nhau

normal thing: điều bình thường

result of growing up: kết quả của việc lớn lên
2.5 What is a common meal in your country?
Well. I'm an Asian so it's rice for sure! We have it almost every single day, in every single meal. It's simply because rice is easy to grow in Vietnam; it provides lots of energy and it is cheap as well so everyone can afford it.
for sure: chắc chắn
have it: ăn món đó
provides lots of energy: cung cấp nhiều năng lượng
afford: có khả năng chi trả 
2.6 What do you think of fast food?
I think fast food is convenient, for sure, but it's extremely unhealthy. I mean, it's okay to have fast food like once or twice a week but having it everyday can seriously damage your health! One of my friends, Daisy, ate fast food for months straight and she's obese now.
Convenient: tiện

Unhealthy: không lành mạnh

damage your health: gây hại cho sức khỏe của bạn

obese: béo phì
2.7 Do you have a healthy diet?
I think so. I used to eat very unhealthily, mostly only consuming fast food and no vegetables. However, I'm learning to eat more healthily now and try to have as diverse a diet as possible!
Unhealthily (adv) một cách không lành mạnh

Fast food: thức ăn nhanh

Vegetables: rau củ

As diverse a diet as possible: chế độ ăn uống đa dạng nhất có thể
2.8 What's the difference between picnics and cooking at home?
Well, the most obvious difference is that cooking at home is more comfortable because you have all the ingredients and tools that you need! In contrast, it's tough to cook in nature during picnics and you either have to be really well-prepared, or you have to learn to make do with what you have.
Comfortable: thoải mái

ingredients and tools: nguyên liệu và công cụ

In contrast: trái lại

Tough: khó khăn

well-prepared: được chuẩn bị kỹ
2.9 Who does the cooking in your family? Why?
Definitely my mom. She is in charge of all the cooking in my family since she is passionate about cooking. In fact, she always makes sure that we are served different types of dishes every meal, which is awesome. Nevertheless, my dad will do the grilling part of barbecue food if my family has a party. 
in charge of: chịu trách nhiệm về

passionate about: đam mê điều gì

barbecue food: đồ ăn nướng
2.10 Did you learn how to cook when you were younger?
Fortunately, yes. When I was a little boy, I loved going to the kitchen to back up my grandmother with some side jobs. From that, I can pick up a few recipes and cooking methods. She also taught me how to decorate a finished dish with vegetables.
back up: hỗ trợ

side jobs: công việc phụ ngoài lề

recipe: công thức nấu ăn

cooking methods: phương pháp nấu ăn

decorate: trang trí
2.11 Do you think Vietnamese people's diet is healthy?
Yes, obviously. Vietnamese people always try to ensure their meals have enough necessary nutrients. That's the reason it is almost a must to have vegetables and soup in every meal, and that's quite healthy. We also use some natural spices and herbs, which are believed to have some medical benefits, to season the food.
Nutrient: chất dinh dưỡng

Spice: gia vị

Herbal: thảo mộc

Medical benefit: lợi ích về y học

Season: nêm nếm
2.12 Do you like tasting new food?
As a foodie, it's a firm yes for me. I always dream of experiencing all different kinds of food. Every cuisine has its own special features, and it would be so great if we can try the local food. It's not only about the taste, but also the underlying meaning behind such dishes.
Foodie: người thích đồ ăn

Experience: trải nghiệm

Special features: đặc điểm đặc biệt

Underlying meaning: ý nghĩa thực sự đằng sau
2.13 Have you ever tried foreign food?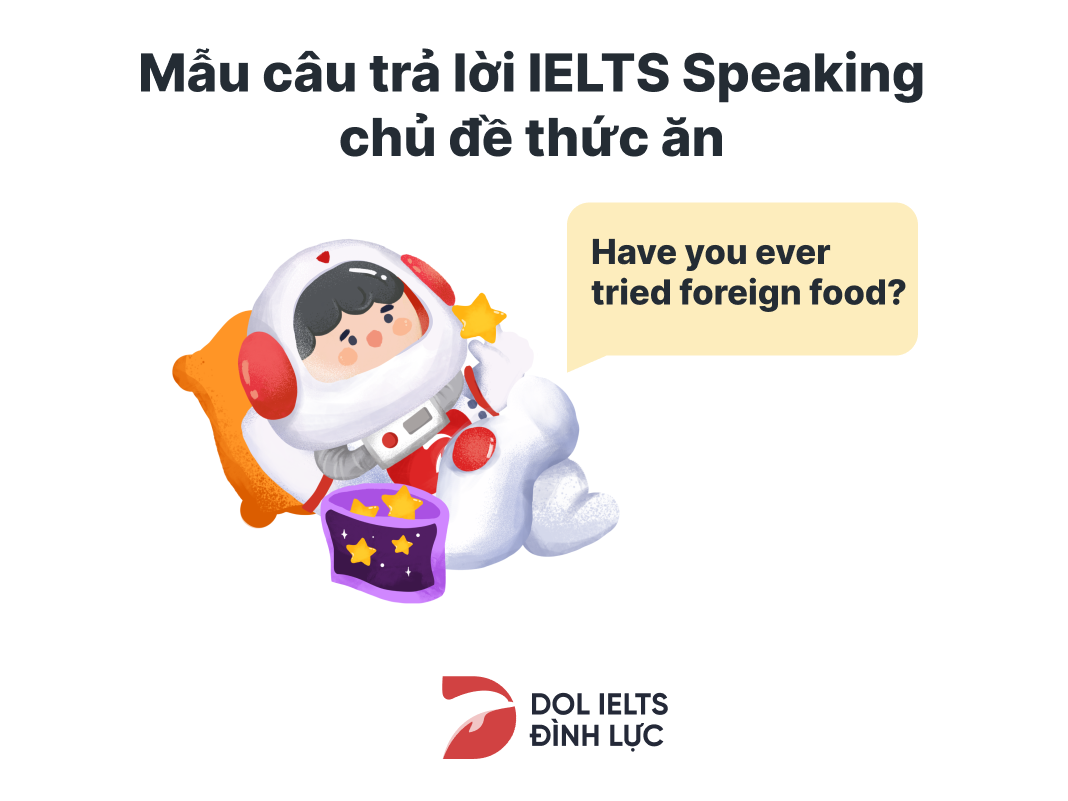 Of course yes. I have a chance to taste lots of food, but my favorite one is Thai food. Even though it is spicy, most of the dishes are incredibly delicious, especially Tom Yum soup. It's such a perfect combination of sour and sweet taste.
Spicy: cay

Delicious: ngon

Perfect combination: sự kết hợp hoàn hảo

Sour: chua
2.14 What kinds of new foods have you tried recently?
Recently, I've been on a diet. Therefore, I usually look for healthy diets such as vegetables or low-calorie food. I was introduced to some vegetarian diets. Initially, I found it hard to maintain this habit. Then, after a while, I am motivated by the fact that I've lost 3 kilometers by eating this on a regular basis.
On a diet: theo chế độ ăn, giảm cân

Low-calorie food: thực phẩm ít calo

Vegetarian diet: chế độ ăn chay

Maintain this habit: duy trì thói quen này

On a regular basis: thường xuyên
2.15 What kinds of things do you eat for dinner in your country?
The food that we eat for dinner can be quite diverse. However, for home-cooked meals, we mainly have rice. We have it with different Vietnamese dishes, among which I believe pork and fried fish are the most popular ones.
Diverse: đa dạng

Home-cooked meals: món ăn được làm tại nhà

Most popular: phổ biến nhất
2.16 Do you like food from other countries near Vietnam?
Certainly, I do. I have a special love for Chinese cuisine. Just like their culture, Chinese people offer a wide range of food. I'm interested in this food partly because its taste is pretty similar to Vietnamese food. We have some commons in the way we process and season the food. 
Cuisine: ẩm thực

Have some commons in: có nhiều điểm giống nhau trong việc gì

Process and season: chế biến và nêm nếm
2.17 Do you like to cook?
I consider myself an excellent cook. But unfortunately, I'm not into cooking. This is because I have a pretty hectic schedule, which means that I don't have enough time to prepare a high-quality meal. So, most of the time, I just choose to eat out and have takeaway food at home. Only on important events such as birthdays, I will roll my sleeves up and get hands-on with something.
Hectic schedule: thời gian biểu bận rộn

Prepare a high-quality meal: chuẩn bị một bữa ăn chất lượng

Eat out: ăn ở ngoài

Takeaway food: đồ ăn mang đi

Roll my sleeves up and get hands-on with something: bắt tay vào làm một việc gì đó
2.18 Do you think cooking is a pleasure or a chore for people who have busy lives?
It depends. For people who are extremely busy. Cooking could be a nightmare as it involves too much preparation and cleaning. In contrast, people who have plenty of time will think of cooking as a hobby. For them, cooking for their beloved ones is the definition of happiness.
Nightmare: cơn ác mộng

Preparation: sự chuẩn bị

Hobby: sở thích

Beloved ones: những người yêu thương
2.19 What time do you usually eat dinner?
Because my working time is quite flexible, I don't have a certain time for dinner. I'm only able to say I often have it after 7 p.m. That is when I mostly finish my job and can have a little time to grab a bite to eat to fill my empty stomach.
Flexible: linh động

Grab a bite to eat: ăn vội

Empty stomach: bao tử rỗng
2.20 Will you change your diet habits?
To be honest I think I should. As I said, I regularly have fast food for lunch and dinner, which is not good for my state of health. I consider spending more time preparing home-cooked dishes. They can not only ensure healthy nutrition but also help to keep my body in shape.
Fast food: đồ ăn nhanh

State of health: thể trạng

Home-cooked: nấu ăn tại nhà

Keep my body in shape: giữ thân hình cân đối
2.21 What do you enjoy the most about a meal?
It would definitely be desserts. I have a sweet tooth, and I always expect a cup of ice cream at the end of the meal. Needless to mention that most desserts are beautifully decorated, which makes them much more mouth-watering. 
Dessert: món tráng miệng

Have a sweet tooth: hảo ngọt

Beautifully decorated: được trang trí đẹp

Mouth-watering: ngon và hấp dẫn
2.22 What foods from your country do most foreign people enjoy?
I believe foreigners find Pho very fascinating. That's a thing that still imprints in their mind after they pay a visit to Vietnam. I guess it is because Pho is well-seasoned with various kinds of spices. Also, the taste is neutral and friendly to most people.
Imprint in one's mind: khắc sâu vào trong trí nhớ

Well-seasoned: nêm nếm đậm vị

Spice: gia vị

Neutral: trung tính
2.23 What kinds of meals do you like?
Personally, I prefer meals which contain enough essential nutrients. It should include meat, vegetables, and soup. This is why homemade meals are always the best. I can ensure my body is healthy as well as have quality time with my family.
Essential nutrient: chất dinh dưỡng thiết yếu

Homemade meal: các món ăn nhà làm

Quality time: thời gian chất lượng
2.24 Do you often eat dinner with your family or friend?
I try my best to have dinner with my family as much as possible. It's always nice and fun to be surrounded by your beloved ones at dinner. However, I eat out with my friends sometimes. It is great to try on different kinds of food, I believe there are foods in restaurants that we have never seen at home.
Surrounded by: được vây quanh bởi

Eat out: ăn ở ngoài 

Try on: thử
2.25 Are there any fruits or vegetables you don't like?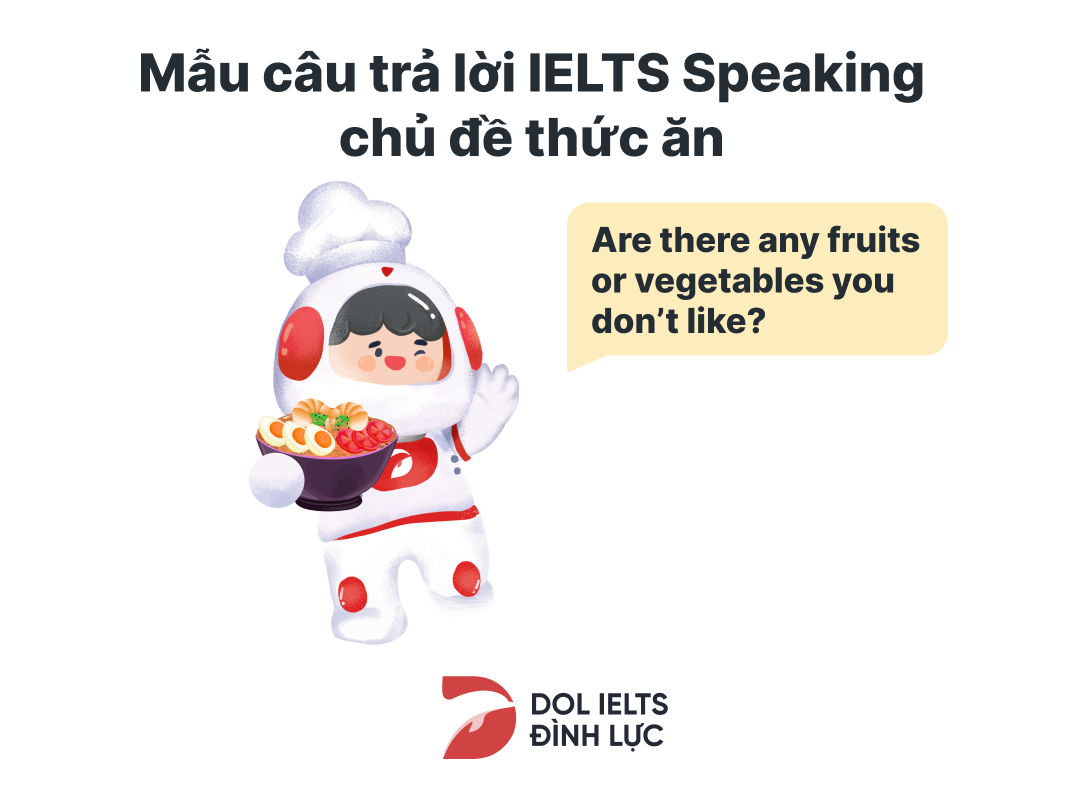 Yes, there're a few. Durian is the first thing that pops up in my mind. It has such a strong smell that makes me dizzy even just being nearby, let alone eating it. Although it is seen as a king of fruit, it's always on my black list.
Pops up: xuất hiện

Dizzy: choáng váng

Let alone eating it: huống hồ là ăn nó
2.26 Do you like chocolate as a child?
Oh yes for sure. I love the taste of bittersweet. Also, the feeling when a bar of chocolate melts in our mouth is just amazing. Besides, chocolate is usually served with nuts, which makes it even better. Until now, chocolate is an indispensable part of my house on Christmas and New year.
Bittersweet: vừa ngọt vừa đắng

Melt: tan chảy

Nuts: các loại hạt

Indispensable: không thể thiếu được
2.27 Do you think most people like chocolate? Why?
I don't think so. Some people can't stand the sweet taste. Moreover, chocolate is not recommended for people who have health problems such as diabetes or obesity. Not to mention that there may be people who are allergic to some ingredients contained in chocolate.
Health problems: các vấn đề sức khỏe

Diabetes: bệnh tiểu đường

Obesity: bệnh béo phì

Be allergic to: dị ứng với
2.28 What kinds of food are most popular in your country?
In Vietnam, we mainly have rice for mealtime. It is a complement to other main courses, namely pork, chicken or beef. And since food is often considered a big matter in most families, we usually prepare a full-course meal with some sort of side dishes and soups as well.
Complement: phần bổ sung

main course: món chính

Full-course meal: bữa ăn đầy đủ

Side dishes: món phụ
2.29 What kinds of foreign food are popular in your country?
From my observation, I think it's definitely Japanese cuisine. There are so many Japanese restaurants in HCM city, selling varieties of dishes too, not just sushi. This is just my guess, but I think the reason for this is that, even though we use different spices and cooking methods, the philosophy behind Vietnamese cuisine and Japanese food is very much similar: both aims for an elemental balance and harmony between the ingredients, and both really utilize the healing properties of herbs and vegetables into cooking. Not to mention that most young people are exposed to Japanese culture from a very young age, through anime and mangas, so I think that also attributes to why Vietnamese people enjoy Japanese food so much.
Observation: sự quan sát

Spices: gia vị

Cooking methods: phương pháp nấu ăn

Philosophy: triết lý

Elemental balance and harmony: sự cân bằng và hài hoà giữa các nguyên tốt

Healing properties: đặc tính chữa lành

Herbs: thảo mộc
2.30 What are the differences between the way young and old people think about new food?
I think one major difference is in how eager we are to try them. For instance, the first week when Starbucks first opened in HCM city, thousands of people lined up to try it, and there were mostly young people and not many old people there. I think this is because in the age of social media, young people always seem to have this urge to be the first one among their friends to try new things and post it on Facebook or Instagram and impress their following. Meanwhile, with older people, they'd be less bothered by it, therefore they would mostly wait for the hype to die down and try later or even not try it at all.
Eager: háo hức

Lined up: xếp hàng

Impress: gây ấn tượng

Bothered: phiền lòng

Hype: cơn sốt

Die down: lặng đi dần
Không bắt buộc phải ghi chú trong IELTS Speaking Part 2. Giấy và bút chì được cung cấp cho các ứng viên với mục đích sắp xếp ý tưởng của họ. Rất nhiều thí sinh ghi chú nhưng không bao giờ sử dụng chúng trong suốt Phần 2. Nếu bạn quyết định viết một cái gì đó ra, hãy chắc chắn tận dụng nó.
Trên đây là các gợi ý trả lời câu hỏi liên quan đến phần thi IELTS Speaking food, DOL English hi vọng phần gợi ý kỹ càng về cả từ vựng, cấu trúc và mẫu câu trả lời này sẽ biến một chủ đề khó như Food thành một chủ đề "tủ" của các bạn trong kì thi sắp tới. Chúc các bạn ôn luyện thi tốt.
📖 DOL xin gửi bạn một vài chủ đề tham khảo khác:
Câu hỏi thường gặp
Những câu hỏi thường gặp về chủ đề IELTS Speaking Food
Can you cook? - Who does cooking in your family or house?

What is the most famous dish from your country?

What is your favorite dish?

What kind of food do you like?

What is your main meal of the day?

Do you prefer eating at home or in a restaurant?

What is importance of food?

Why is food a life?
Gợi ý trả lời câu hỏi: Why is food a life?
Foods are directly related to our body and mental and social health because each food or liquid contains particular nutrition such as carbohydrates, protein, vitamins, minerals, fats, etc, which are very necessary for our physical and mental growth.
Gợi ý trả lời câu hỏi: What are the five benefits of food?
May help you live longer.

Keeps skin, teeth, and eyes healthy.

Supports muscles.

Boosts immunity.

Strengthens bones.

Lowers risk of heart disease, type 2 diabetes, and some cancers.

Supports healthy pregnancies and breastfeeding.

Helps the digestive system function.
Những từ vựng thường gặp về chủ đề IELTS Speaking Food
Chopstick: đôi đũa; spoon: muỗng; fork: nĩa; bowl: bát; salt shaker: lọ rắc muối; pepper shaker: lọ rắc tiêu; soup: món súp; salad: món gỏi, rau trộn; bread: bánh mì; baguette: bánh mì Pháp; steak: bít tết; beef: thịt bò; pork: thịt heo; scampi: tôm rán; sausages: xúc xích; bacon: thịt muối; lamb: thịt cừu; trout: cá hồi nước ngọt; sole: cá bơn; mackerel: cá thu

Salmon: cá hồi nước mặn; tuna: cá ngừ; eating habits: thói quen ăn uống; meal: bữa ăn; fast food: thức ăn nhanh; a quick snack: bữa ăn vặt; take away: thức ăn (thức uống) mang đi; processed foods: thức ăn chế biến sẵn; junk food: đồ ăn vặt

Home – cooked meal: bữa ăn nấu tại nhà; eat like a horse: sức ăn mạnh; eat like a bird: sức ăn yếu; eat in moderation: ăn uống vừa phải, điều độ; eat a balanced diet: ăn chế độ cân bằng dinh dưỡng; organic foods: thực phẩm hữu cơ; allergies: dị ứng; seasoning: gia vị; food poisoning: ngộ độc thực phẩm