IELTS Speaking Part 1 topic Name: Từ vựng, câu hỏi & câu trả lời mẫu
IELTS Speaking part 1 Name đã là một chủ đề không còn quá xa lạ trong phần thi IELTS speaking part 1. Tuy nhiên, nhiều bạn thí sinh vẫn còn gặp khó khăn trong phòng thi với chủ đề này. Nguyên nhân là do các bạn còn thiếu từ vựng và chưa biết cách khai triển câu trả lời. Trong bài viết này, DOL sẽ cùng các bạn "xử gọn" 15 câu hỏi thường hay gặp nhất trong phòng thi cho topic này, để biến việc trả lời câu hỏi cho IELTS speaking part 1 Name trở nên nhẹ nhàng hơn nhé.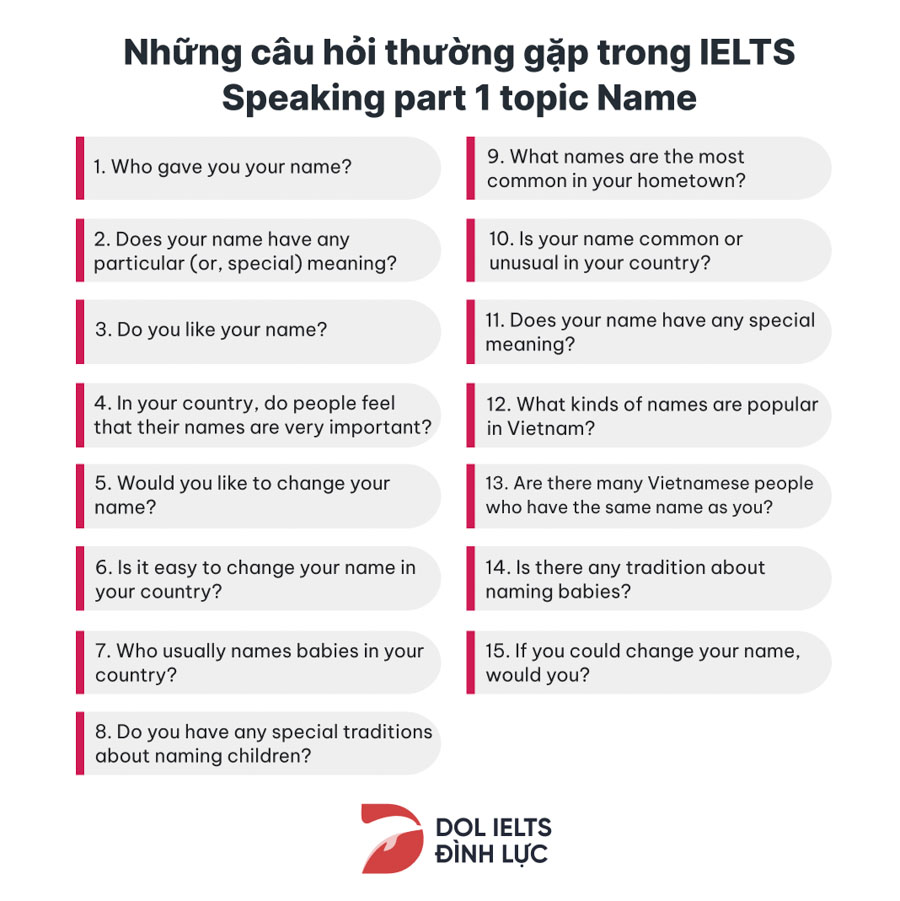 1. Who gave you your name?
In Vietnam, newborn children's names are traditionally given by one of their relatives, generally their grandparents or their parents. That said, nowadays, things have changed. People are more creative in terms of naming their babies. The other day, I read an interesting article about how a couple named their baby after the name of the storm "Noru", which is kind of funny and meaningful at the same time.
2. Does your name have any particular (or, special) meaning?
Generally speaking, I guess most Vietnamese names do, and so is my name. My name may be translated as an autumn river. Anything associated with Autumn is regarded as lovely and serene in my nation, as this season is the most pleasant of the four. So I'm guessing my parents expected me to be somewhat like the name that they gave me.
3. Do you like your name?
Answer 1: Honestly speaking, I used to really hate my name when I was small. I used to chastise my parents for giving me such a masculine name. Back in primary and secondary school, my friends mocked me because I had a deep, warm voice, much like a mature guy. However, since I've gotten older, I don't take these jokes as seriously as I used to, so I believe it's safe to answer yes. 
Answer 2: Of course, I find my name really meaningful, so I love it. It's something that kind of represents my personality. Plus, my name also symbolizes the love of my parents. So yeah! I'd say that I'm quite satisfied with my name.
4. In your country, do people feel that their names are very important?
A hundred percent! Names are used for more than just identification in Vietnam. When a new kid is born, they also convey the aspirations and expectations of the parents . Also, many Vietnamese think that names are blessings for infants, so most people see their names as a fortunate charm for them.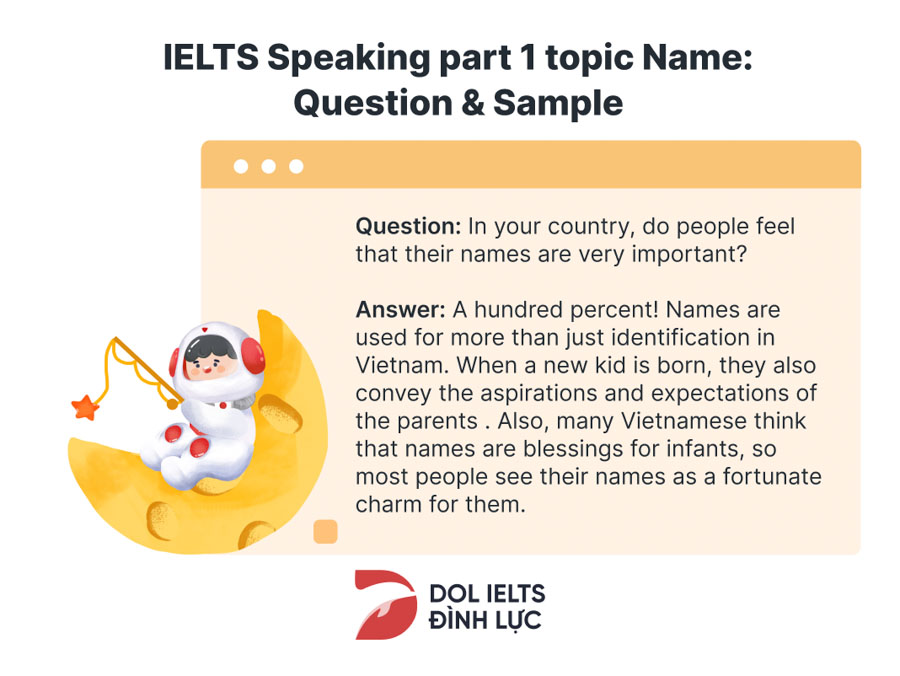 5. Would you like to change your name?
No, I wouldn't change my name for the world since there are so many things I'd have to complete tons of paperwork and complicated red tape to get a new name. On top of that, this stuff makes no sense to me. I don't know why people would change their name but from what I can see, there's no use in adopting a new name unless you're a criminal and want to change your entire identity not to get caught.
6. Is it easy to change your name in your country?
I'm not really sure because I don't know how simple the procedures are and honestly speaking, I've never met someone who tried. With that being said, I reckon that the documentation necessary would be rather extensive, and the entire procedure would definitely take a really long time.
7. Who usually names babies in your country?
As previously said, kids are more often than not given names by their grandparents. Sometimes, I even see babies get their names by someone who has done a great favor to the infant's family.
8. Do you have any special traditions about naming children?
Well, I'd have to say that I am pretty much clueless about this area. But there are definitely certain traditional practices in terms of giving names to babies that might exist among previous generations. Mind you, we millennials don't really recognize or uphold such traditions anymore.
9. What names are the most common in your hometown?
I'm certainly not an anthropologist, so I don't have any idea what names are most commonly seen in my town. That said, I believe that names that begin with an "L" are ubiquitous, you can encounter these names everywhere, left, right and center. But that's just my guess.
10. Is your name common or unusual in your country?
Sure, my name is extremely common in Vietnam. So common that if someone yells my name on any crowded street at any time of day, I'm sure more than three people will turn around to see who's calling. Yeah, it's that embarrassingly common. 
11. Does your name have any special meaning?
Sure, it certainly does. My mom gave me this name because she gave birth to me early in the morning. So she just decided that a "morning" name would be a good choice for me. 
12. What kinds of names are popular in Vietnam?
I'm not so sure about people's preferences in terms of naming babies. With that being said, I'd hazard an answer that gender-neutral names are pretty popular these days in Vietnam. Plus, names that are short and easy to pronounce and recall are also commonly chosen, I guess.
13. Are there many Vietnamese people who have the same name as you?
A hundred percent. Simply because my name is just so easy to say and recall. I'd go as far as to say that if you say my name loudly in public places, no less than five people will look at you. That's kind of funny to think about. Right?
14. Is there any tradition about naming babies?
Normally, the father names his kid, but in certain circumstances, grandparents also chime in the naming process as well because they want to have certain impacts on the baby. Aside from that, newborn newborns' family names must be the same as their fathers.
15. If you could change your name, would you?
My name means a lot to me, and I would never change it. The reason for this is that  one's name is both distinctive and meaningful and that the name represents somewhat of a person's uniqueness. So I reckon that I would never change my name for the world.
Vậy là chúng ta đã cũng nhau đi qua câu trả lời mẫu cho phần thi IELTS Speaking part 1 Name. Hi vọng từ bài viết này, các bạn có thể tham khảo được nhiều từ vựng và cách thức diễn giải câu hỏi cho phần topic Name trong phòng thi. 
Khi bạn luyện IELTS Speaking, hãy sử dụng đồng hồ hẹn giờ. Giới hạn câu trả lời của bạn trong hai mươi giây. Đừng luyện tập những câu trả lời dài khiến bạn mất một phút để đọc hết
Các bạn nghĩ sao về phần sample answer này? Hãy đến lại bình luận để DOL English biết nhé. Nếu các bạn đang gặp khó khăn trong quá trình ôn luyện IELTS của mình cho mục tiêu cá nhân sắp tới. Hãy liên hệ DOL English ngay để được kiểm tra trình độ tiếng Anh miễn phí và tư vấn khoá học được cá nhân hoá dựa trên phương pháp Linearthinking độc quyền của DOL nhé!
Câu hỏi thường gặp
Bài kiểm tra nói IELTS gồm mấy phần, đó là những phần nào?
Bài kiểm tra IELTS gồm 3 phần:
Phần 1: Giới thiệu và Phỏng vấn

Phần 2: Cá nhân dài hạn

Phần 3: Thảo luận hai chiều
Nội dung Part 1 trong bài thi nói IELTS là gì?
Trong Part 1 của bài thi nói IELTS, giám khảo thường đưa ra những câu hỏi về thông tin cá nhân của thí sinh. Cùng với đó là một số câu hỏi về các chủ đề quen thuộc như học tập, công việc, sở thích, gia đình,...
Kiểm tra IELTS Speaking 1 trong bao lâu?
Phần nói 1 trong IELTS có thời lượng từ 4 - 5 phút. Nếu khả năng xử lý tình huống của thí sinh tốt, lưu loát thì có thể nói nhiều hơn một chút. Ngược lại, trong trường hợp khả năng nói tiếng Anh hạn chế thì thí sinh nên điều chỉnh câu trả lời cho ngắn gọn và đủ ý.
Những câu hỏi thường gặp trong IELTS Speaking 1?
Did you enjoy your childhood? (Bạn có tận hưởng tuổi thơ của mình không?)

Are clothes important to you? (Quần áo có quan trọng với bạn không?)

Do you often use a dictionary? (Bạn có hay sử dụng từ điển không?)

Do you spend much time with your family? (Bạn có dành nhiều thời gian cho gia đình không?)

Do you like flowers? (Bạn có thích hoa không?)

Do you often go out in the evenings? (Bạn có thường đi chơi vào các buổi tối không?)