Top 9 Bài Mẫu IELTS Writing Task 2 Band 9 Hay Nhất
Trong bài viết này, DOL mang đến cho bạn top 9 bài mẫu IELTS task 2 band 9, những essays xuất sắc đạt điểm tuyệt đối writing với mục đích giúp bạn học hỏi thêm các từ vựng siêu cấp cùng những cấu trúc câu xịn xò. Bắt đầu thôi.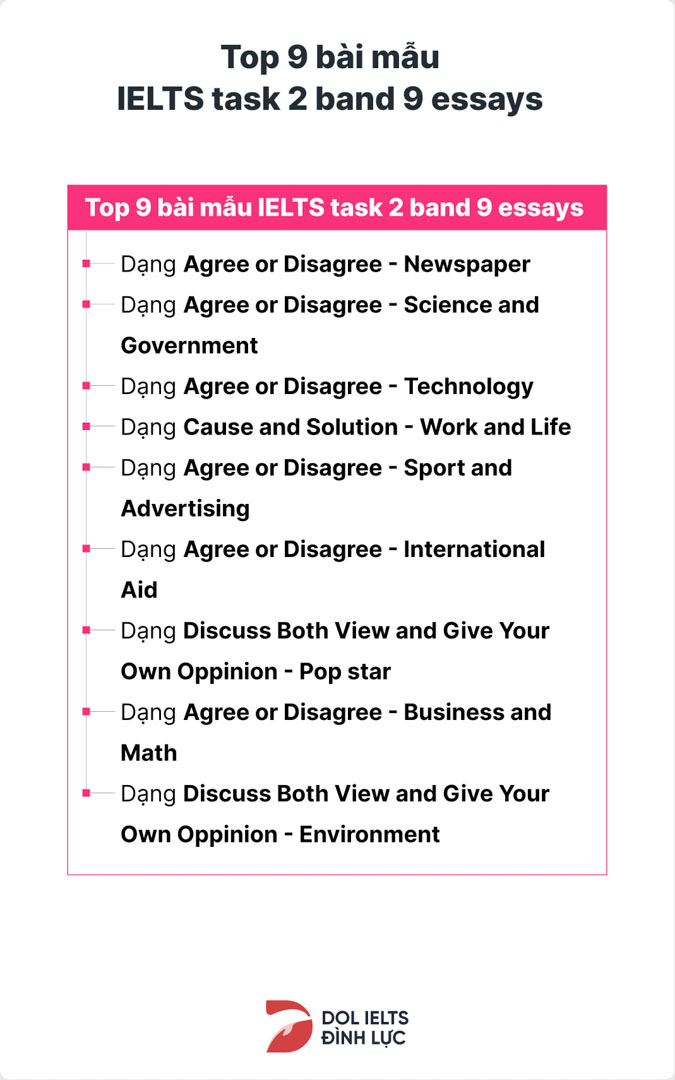 1. Dạng Agree or Disagree - Newspaper
Some people say that we do not need printed newspapers anymore. To what extent do you agree or disagree?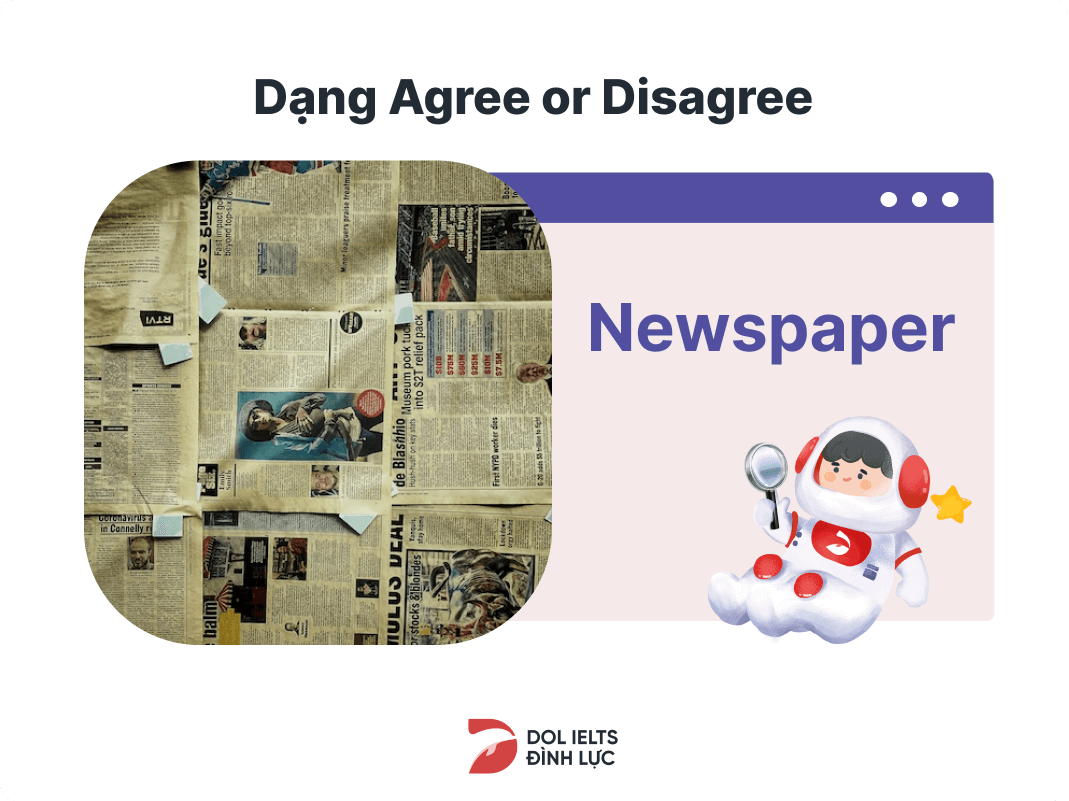 Technology advancement has resulted in a profusion of digital platforms. As a result, the vast majority of people believe that daily newspapers are no longer necessary. As a consequence, in my opinion, an up-to-date broadcast is now available on electronic devices. In the following paragraphs, I will clarify my position. There are numerous reasons to support this notion.
Nowadays, getting news on the internet provides a number of advantages. For starters, internet papers keep readers up to date faster than traditional periodicals. For example, we can acquire global updates instantaneously on the internet, but it would take publications a few days to investigate and publish the data officially. Second, the internet allows users to access free material and the most up-to-date information without having to purchase physical newspapers from stores, allowing them to save money and time.
On the other hand, I believe that physical diaries are still indispensable for a variety of reasons. The first is that they are one of the most reliable sources of information. Because anybody may create and upload articles on the internet, they may include untrustworthy material that has not been adequately vetted before release. Furthermore, online journals frequently have a detrimental impact on people's health. For example, if we spend many hours each day reading online news on our mobile phone or computer, this might have a negative influence, particularly on our eyes.  
In conclusion, while individuals are increasingly using alternative media to acquire worldwide information, this does not indicate that there is no longer a vital demand for physical press.
Phân tích đề và từ vựng ở link này.
Task achievement: 9

Coherence & Cohesion: 9

Lexical Resources: 9

Grammatical Range & Accuracy:: 9

Overall Score: 9
2. Dạng Agree or Disagree - Science and Government
Many people believe that scientific research should be carried out and controlled by governments rather than private companies. To what extent do you agree or disagree?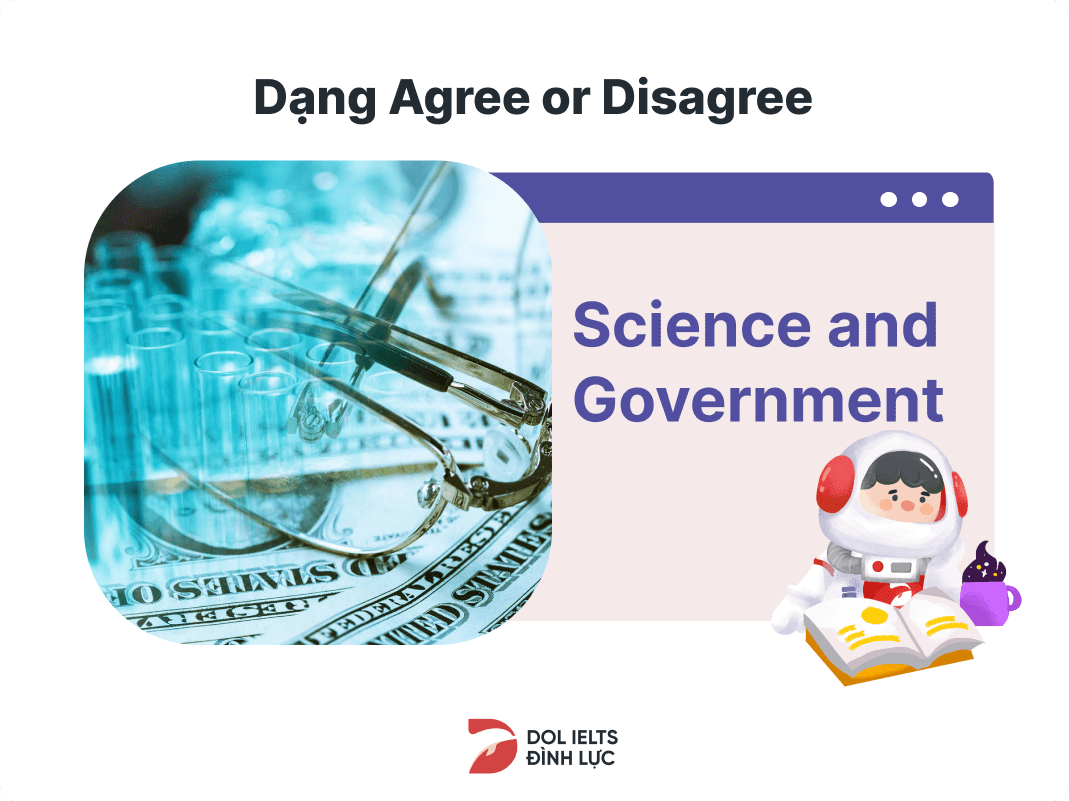 Some say that government should have complete control over scientific research. While governments must play an important role in technological advancement, I feel that collaboration between government and private funding would be more beneficial.  
People feel that governments should oversee scientific research for a variety of reasons. To begin, scientific study, by definition, necessitates enormous effort, time, and money. It is thought that only the government, with the well-being of the entire population in mind, can continually invest in these initiatives and will not sacrifice the long-term purpose for a short-term financial benefit. Second, some scientific endeavors, if allowed unchecked, are likely to produce social or ethical difficulties, undermining society's values. For instance, genetic engineering technology has sparked several debates and is presently subject to government oversight. Finally, most science funding comes from tax income; as a result, individuals want their tax dollars to be used under the supervision of government officials.  
Nevertheless, as long as these technological programs are driven by the government, I believe private sector engagement will undoubtedly contribute to the end aim. The fundamental reason is that government personnel are not professionals in either the scientific or business sectors, but private funds are more specialized in the implementation of scientific achievements since they are profit-driven. With genuine economic rewards achieved by those studies, relevant employees may be more encouraged to do more research. Furthermore, government personnel are occasionally understaffed and inefficient. Without such teamwork, people risk becoming overwhelmed by the volume of work and communication.  
Finally, I believe that academic studies may be carried out and marketed more effectively with the partnership of the government and private firms, given that officials rigorously regulate it.  
Phân tích đề và từ vựng ở link này.
Task achievement: 9

Coherence & Cohesion: 9

Lexical Resources: 9

Grammatical Range & Accuracy:: 9

Overall Score: 9
3. Dạng Agree or Disagree - Technology
Some people believe that technology causes more problems for modern society than it solves. Do you agree or disagree?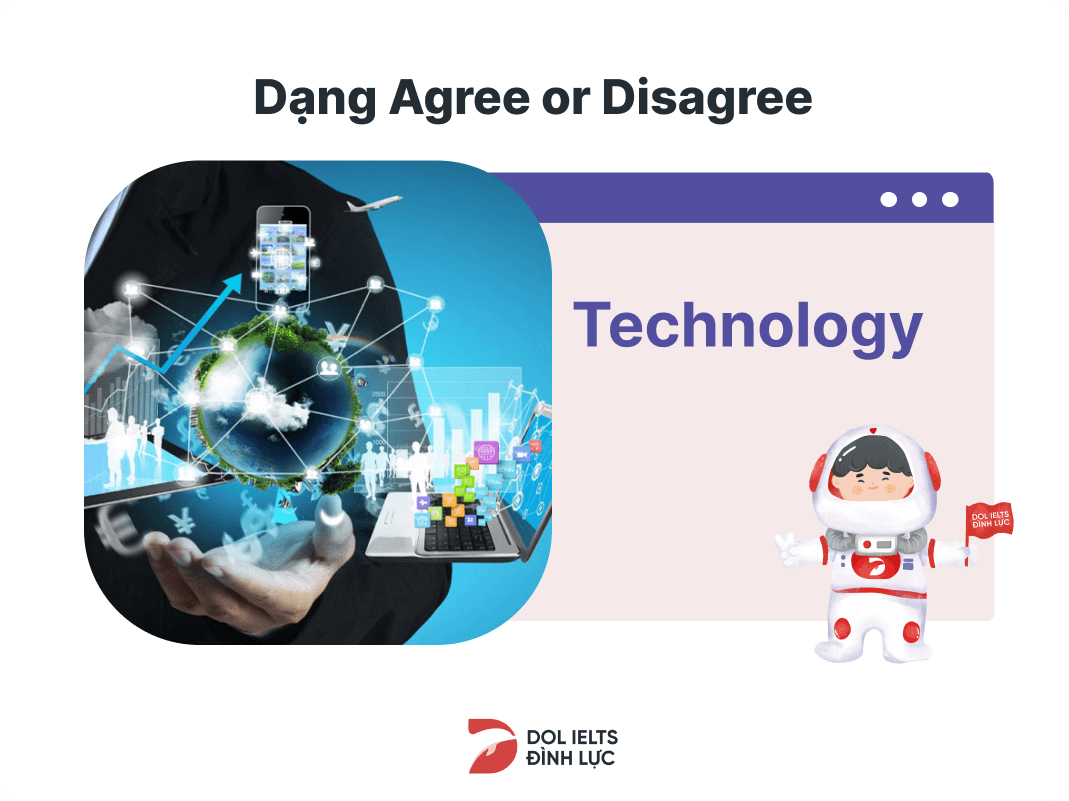 Many believe that modern technological development has done more harm than good to both the individual and society as a whole. Even though I do agree that technology has complicated human life to an unhealthy degree, turning away from technology is quite impractical as it could improve overall public health and education.  
First and foremost, our lives have become too complex and riddled with daily annoyances. True solitude is no longer the case for an average adult as we are now often buried under layers of work-related email notifications or text messages. Even in the young, there are numerous phone applications for students to receive and turn in home assignments. Evidently, this need to stay constantly connected is stressful and exhausting. Another point worth considering is that daily entertainment is also linked with technological devices such as televisions, computers, or smartphones, all of which are extremely addictive. Reports from multiple countries have shown that there is irreversible damage to human brains from excessive screen-time usage. It is scientifically proven that people with this addiction experienced a decrease in grey matter volume in critical areas, a condition similarly observed in those with a substance use disorder.
At the same time, medical and educational technologies have been providing innumerable benefits to modern society. In fact, due to medical advances, doctors are now able to diagnose health problems 300% more accurately than just five decades ago. This greatly facilitates timely intervention and improves positive outcomes. Furthermore, innovative medical products can now also replace and sustain failing body functions, thereby supporting people in living full and active lives. Additionally, the use of information and communication technologies plays a crucial role in providing a more accessible learning process. In the recent Covid-19 pandemic, for instance, "learning poverty" was at an all-time high for most underdeveloped countries. As local schools were forced to close due to the disease, remote learning was then deployed using a combination of TV, Online, and Mobile Platforms, which can teach thousands of students simultaneously. Commendably, now most countries have invested in digital infrastructure, and are still utilizing various implementations of remote learning.
In conclusion, despite its fair share of problems, technological innovations personally are still a blessing for modern society due to the improvements it provides in terms of healthcare and education.
Phân tích đề và từ vựng ở link này.
Task achievement: 9

Coherence & Cohesion: 9

Lexical Resources: 9

Grammatical Range & Accuracy:: 9

Overall Score: 9
4. Dạng Cause and Solution - Work and Life
People aim to achieve a balance between their work and lives. But few people achieve it. What are the causes of problems? How to overcome it?  
The rapid speed of advancement in human lives has led us to the dilemma of maintaining the equilibrium between working and living. This essay would delve into the reason why many people encounter the failure of balancing those aforementioned aspects and propose certain solutions to deal with the problem.
The unattainable goals of stabilizing work and life can be attributed to financial and social pressure as well as household responsibilities that one has to fulfill. Chief among these is that people are working in a goal-oriented way to make ends meet which imposes tremendous strain that they have to suffer. This can be explained by the fear of being heavily in debt or not having a decent life in the future once they stop working. Also, social recognition has created a burden that most individuals have to shoulder. Working arduously and continuously to climb to a higher position on the career ladder has been the ultimate goal of employees due to their obsession with acknowledgment from society. Concerning the second reason, a myriad of domestic duties such as taking care of children and parents has led to the insufficient amount of time allocated for individuals themselves. The shortage of time for relaxation and recharging energy has contributed to the impossibility of balancing work and life for most people.
Fortunately, the efficient working approach and the sharing of household responsibilities can be applied to address those problems. With regard to the former, people should modify their working style, from laboriously to efficiently and productively by means of multitasking. For example, waiting time in commuting by public transport can be used to check emails, plan personal schedules or revise reports. Turning to the second idea, family members are encouraged to share household chores with each other to lighten the burden that one has to carry. In this way, everyone would have more time to cater to their favorite pastimes such as watching a movie or journaling after working hours.
In conclusion, people cannot achieve the goal of balancing working and living due to the pressure of maintaining a stable financial state as well as projecting a positive image to meet the requirements of society. However, the modification in working styles and the division of household work could be plausible to solve the problem.
Phân tích đề và từ vựng ở link này.
Task achievement: 9

Coherence & Cohesion: 9

Lexical Resources: 9

Grammatical Range & Accuracy:: 9

Overall Score: 9
5. Dạng Agree or Disagree - Sport and Advertising
Large companies use sport events to promote their products. Some people think this has a negative impact on sports. To what extent do you agree or disagree?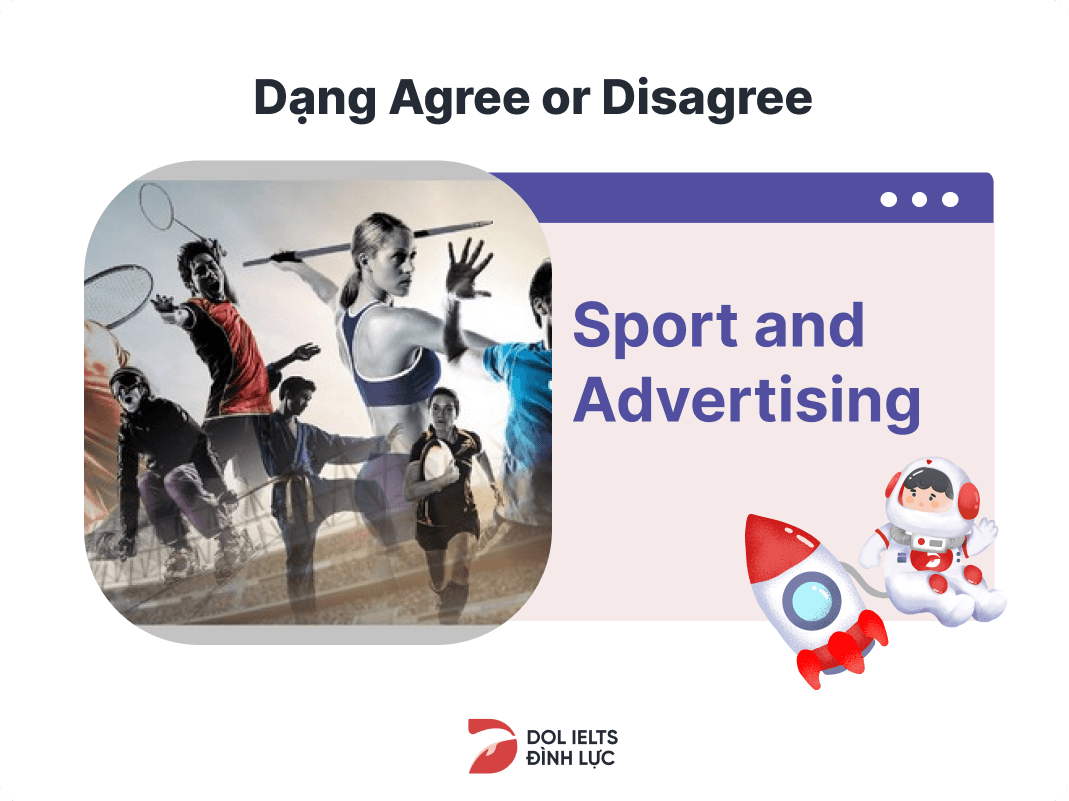 The fact that sporting events have become a fertile ground for advertisements has become a hot topic for debate, with many arguing that this trend affects the sports industry negatively. From my perspective, I partly disagree with the statement.
To begin with, sports events being used as a platform for promotion can offer both the events and the sports team tremendous benefits. Firstly, advertising can help cover the event planning costs and make the events more accessible. Internationally-acclaimed sporting competitions can cost the host countries an astronomical amount of money that without sponsorships from large corporations, would not be paid off unless the entrance ticket is high-priced. This would drive fans away and hurt the event's profit. For example, the 2021 Tokyo Olympics game is reported to have generated 2.25 billion US dollars in advertising revenue, which is almost 20 percent of the hosting cost. Secondly, advertisements can give sportsmen a better living standard, thus helping them take their mind off money problems and focus on the games. Some players even got rich thanks to product endorsements, namely Ronaldo and Messi.
Nevertheless, promoting products during sporting events can bring about negative consequences if the product is not ethical. As sports stars are influential figures, sports teams should be careful about what products they can endorse. To be more specific, research from Yale University in 2013 claimed that some sports sponsorships that featured junk food had increased the rate of child obesity. This is because children are impressionable, therefore, once they see famous athletes with fast food, they can have the wrong impression that this kind of food is wholesome and develop cravings for junk food.
In conclusion, while I believe that using sports events as a promotion platform can be beneficial, the organizers and the sportsmen should be aware of the impact of the products they advertise.
Phân tích đề và từ vựng ở link này.
Task achievement: 9

Coherence & Cohesion: 9

Lexical Resources: 9

Grammatical Range & Accuracy:: 9

Overall Score: 9
6. Dạng Agree or Disagree - International Aid
Some people believe that the government should not spend money on international aid when they have their own disadvantaged people like homeless and unemployed. To what extent do you agree or disagree?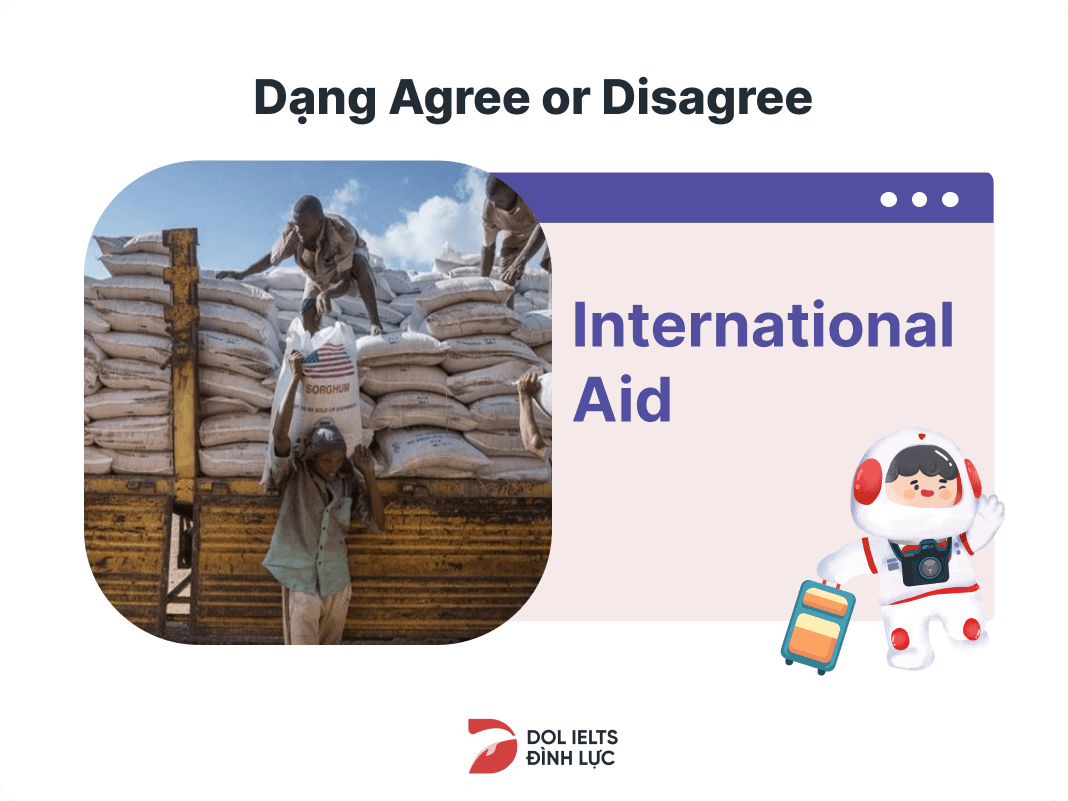 Certain individuals are of the opinion that the governmental allocation of financial resources should be distributed to other impoverished countries while others suppose that it is of paramount importance to focus on curbing their domestic issues. From my perspective, I am in consummate agreement with the proposal of determining national priority on internal problems.
On the one hand, it is understandable that crossborder support is a symbol of humanity. Geographically, people are divided into different ethnicities but by nature, humanity is the core connected feature among individuals. Thus, it goes without saying that supporting other countries through the provision of financial or social assistance is a logical and praiseworthy action. Not to mention that helping other nations to deal with financial crises would eliminate the chances of illegal migration which is detrimental to surrounding developed regions.
However, I opine that concentrating on addressing domestic issues such as homelessness or unemployment should be an utmost urgency of any country. To begin with, financial fund from the government is regarded as a crucial means to reserve and maintain welfare schemes as well as social security. The smooth flow of how society works would create a favorable environment for job opportunities which accordingly increases the economic growth rate. Furthermore, employment chances, as a result, generate more personal budgets which people can use to afford decent shelters decreasing the homelessness rate.
In conclusion, although transnational support should be executed as a gesture of humanity, I still believe that any government should put the goal of tackling internal issues in a country to be the top priority. 
Phân tích đề và từ vựng ở link này.
Task achievement: 9

Coherence & Cohesion: 9

Lexical Resources: 9

Grammatical Range & Accuracy:: 9

Overall Score: 9
7. Dạng Discuss Both View and Give Your Own Oppinion - Pop star
Some people believe that pop stars deserve to earn more money than classical music performers. Some disagree.
Discuss both views and give your own opinion.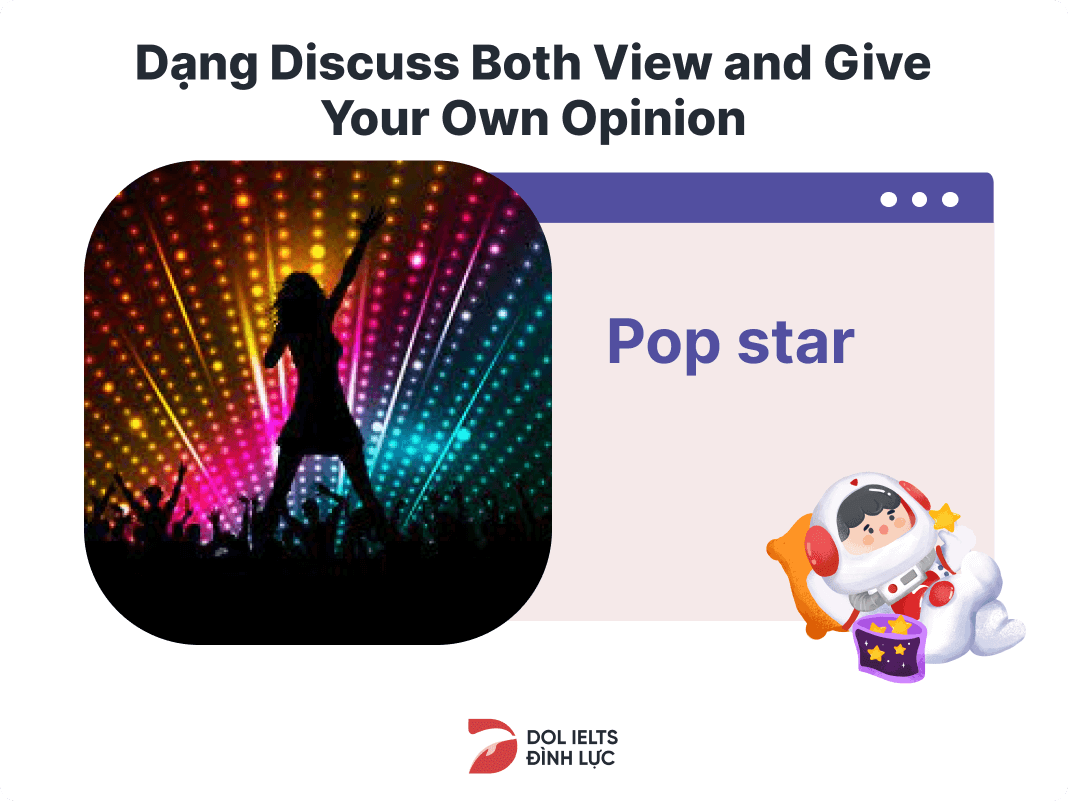 Some individuals opine that celebrities performing pop music should be paid higher salary in comparison to those majoring in classical music, while others are not in consummate accord with the aforementioned idea. This essay would delve into discussing the two perspectives as well as stating my support for the former one.
It is reasonable for classical music performers to earn more money due to their huge effort in mastering instruments and traditional values that they preserve. Chief among these is that those who pursue traditional music has spent a plethora of time and attempt to be adept at using instruments and the specific style of each category of classical music. Obviously, traditional music requires not only thorough understanding of its nature but also the talent as well as constant practice to deliver the best piece of music enjoyed by the public. Concerning the second viewpoint, classical music plays a paramount importance in preserving traditional values of a country. It is true that the more money artists performing classical music can earn, the more possible that they would not change jobs. As a result, there are chances that future generations can still enjoy one of some masterpieces in music field.
Nevertheless, I strongly believe that more financial means should be paid for pop celebrities due to their short-term contribution and great attempt in maintaining positive images. With regard to the former, the majority of pop stars have to face the challenge of a short-lived career since the entertainment industry is constantly changing. Consequently, for around one or two decades of contribution, most of those well-known artists would be replaced by other more talent and dynamic ones. Another point is that performers of pop music always trying to set good examples especially when presenting in public. Since they aware of their significant impact on people, particularly teenagers, great effort in creating and maintaining favourable figure has been made by these individuals. Therefore, it is logical that stars performing pop music should earn more money.
In conclusion, although artists of classical music have to make great attempt in mastering their skills and retaining traditional value, I suppose that pop performners should be paid with higher salary due to their contribution in a short period of time and their responsibility maintain positive images.
Phân tích đề và từ vựng ở link này.Task achievement: 9
Coherence & Cohesion: 9

Lexical Resources: 9

Grammatical Range & Accuracy:: 9

Overall Score: 9
8. Dạng Agree or Disagree - Business and Math
To succeed in a business, one needs to know maths. To what extent do you agree or disagree?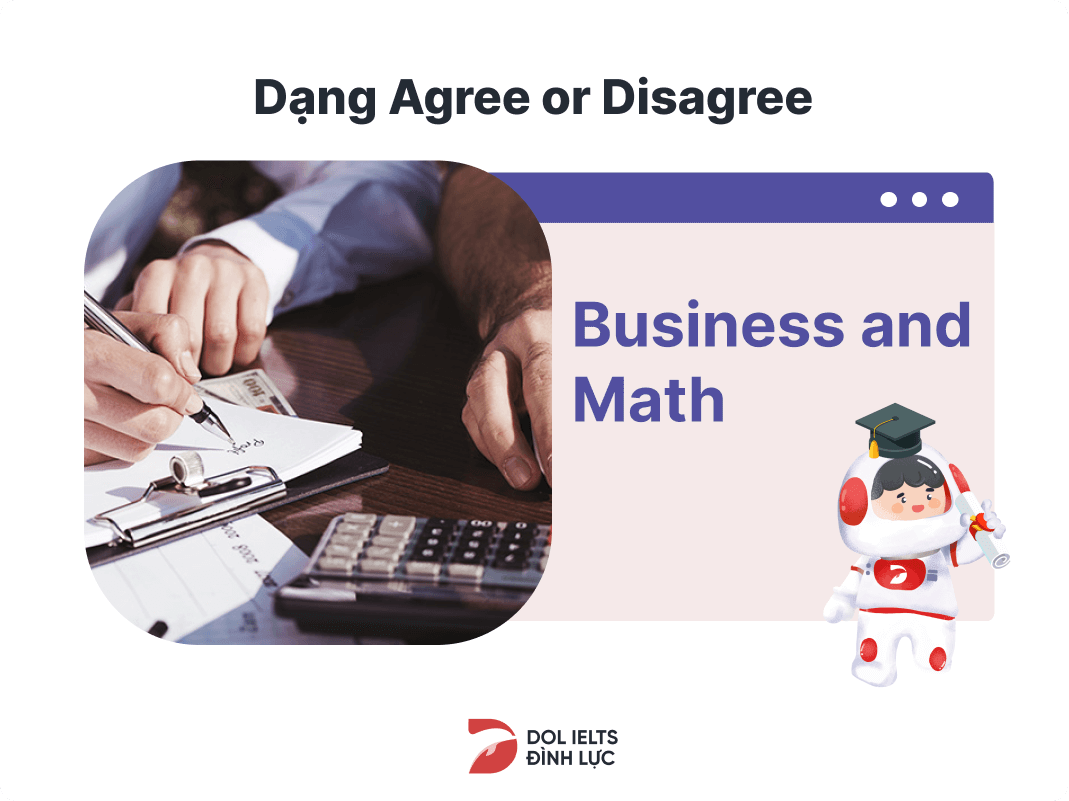 In today's competitive economy, many believe that one needs to be knowledgeable in maths in order to excel in business. While I believe that math is indeed an important element of any worker's skill set, I argue that it is not vital to the success of an individual; this is because whether maths is important is dependent both on the business and the position of the employee or employer holds.
It is apparent that mathematical ability has increasingly been sought out by employers as a sign that the employee will succeed within a business. This proficiency in maths not only allows individuals to analyze large quantities of data, but also demonstrates the ability to think critically. Therefore, those who are talented at maths can not only help businesses predict future trends and stay one step ahead of their opponents, they might be able to assist in logistics or administrative tasks as well. This is why for example why top financial institutions and technology companies, such as Goldman Sachs and Tesla, often pay premiums in order to recruit the top mathematicians from prestigious universities.
However, it could also be argued that the most successful businessmen might not need to be well versed in mathematics, since they can simply employ employees who are. Many managers and CEOs simply do not have time to do every single calculation that involves their business, and instead, focus their time on managing relationships and communicating with people. It could be said that their function is thus not to manage the business, but to manage people - their role is to find and bring out the best in people that can perform jobs better than them through specialization.
In conclusion, I argue that while mathematics is certainly an important component of any business and a useful skill set for any employee, one does not necessarily need to be proficient in mathematics in order to nonetheless succeed.
Phân tích đề và từ vựng ở link này.
Task achievement: 9

Coherence & Cohesion: 9

Lexical Resources: 9

Grammatical Range & Accuracy:: 9

Overall Score: 9
9. Dạng Discuss Both View and Give Your Own Oppinion - Environment
Some human activities have negative effects on plant and animal species. Some people think it is too late to do anything about this problem while others think effective measures can be taken to improve this situation. Discuss both views and give your opinion.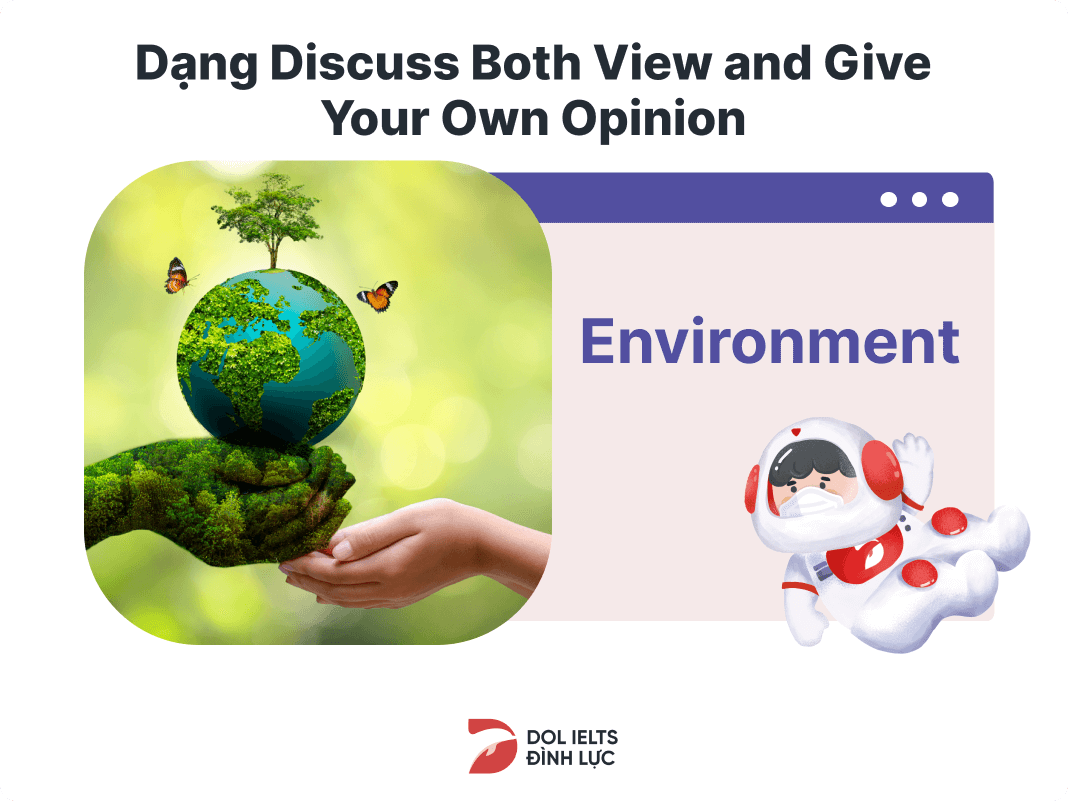 Considerable impacts on the environment made by human activities have been a heated debate. Some individuals are of the opinion that tackling those environmental issues is impossible. However, another school of thought opines that changes can be made to reverse the current situation. Personally, I suppose that only if urgent actions are taken, those aforementioned problems will soon be solved.  
Those who advocate the lateness in improving environmental problems may point to the extinction of animals and the exceeding rate of global warming. Chief among these is that human activities, such as hunting and poaching, are the major culprit in the vanishment of a myriad of fauna and flora species. Accordingly, the ultimate adverse consequence is the imbalance in our ecosystem, which creates obstruction in the food chain. However, no feasible approach can be applied to rebirth those species. The second idea is that the substantial increase in industrial production combined with excessive deforestation has contributed to the alarming situation of global warming. And it is a bitter truth that efforts made to decrease the world average temperature once it rises will eventually become fruitless.   
Nevertheless, I still argue that fostering awareness among citizens and global cooperation will be effective measures in addressing the issue. Regarding the former, thanks to being fully aware of the detrimental impacts on the environment, a myriad of workshops or propaganda are organized to educate and encourage an environmentally-friendly living style. For example, using canvas bags instead of plastic ones in shopping has become a trend among youngsters nowadays. Another point worth mentioning is that various international law in protecting the environment has been established on the foundation of international agreement. For instance, governments have made attempt to eradicate destructive habits and save the lives of endangered species by raising funds to protect their natural habitats.   
In conclusion, although human activities pose great risks to the environment, including the vanishment of species and the warning rate of global warming, I believe that certain methods, namely the raising of individuals' awareness and the enhancement of cross-border corporations, can be applicable in addressing the problem. 
Phân tích đề và từ vựng ở link này.
Task achievement: 9

Coherence & Cohesion: 9

Lexical Resources: 9

Grammatical Range & Accuracy:: 9

Overall Score: 9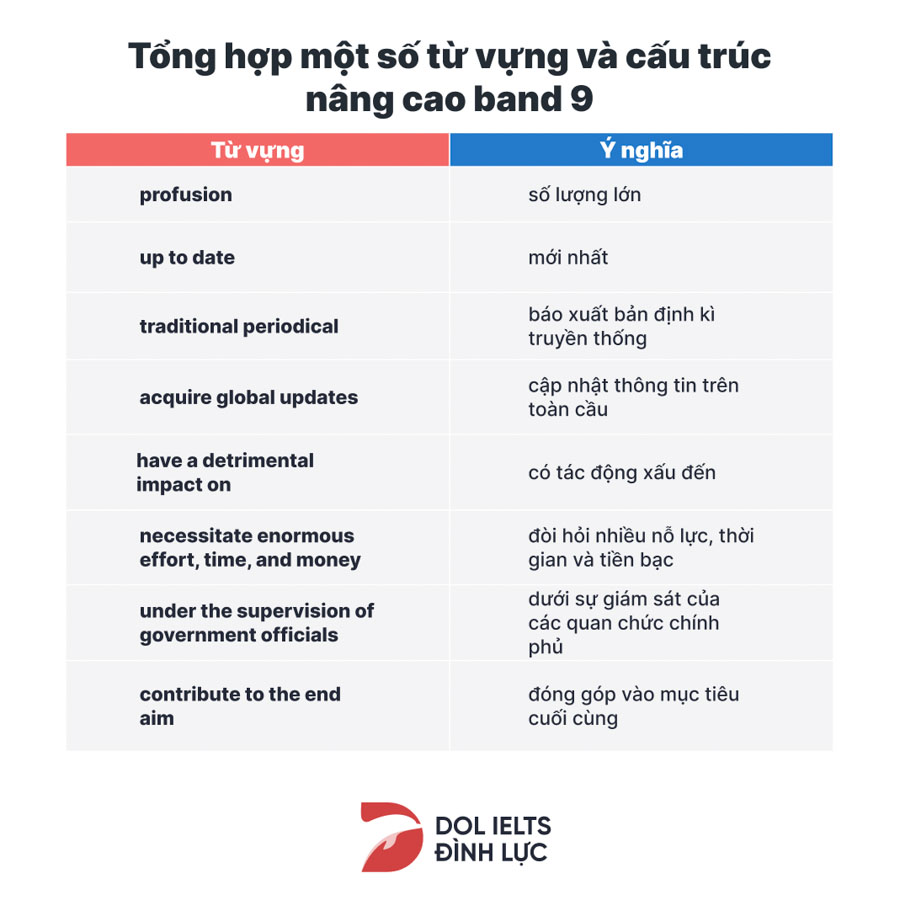 DOL hy vọng là bài viết về Top 9 bài mẫu ielts task 2 band 9 essays  đã mang đến cho bạn nhiều từ vựng cũng như là các cấu trúc câu "hịn" để có thể áp dụng tự học hiệu quả. 
Để đạt được band 9 IELTS Writing bạn nên giải quyết đầy đủ tất cả các phần của nhiệm vụ để đạt được điểm hoàn thành nhiệm vụ, khéo léo liên kết các đoạn văn để tạo sự mạch lạc và gắn kết, sử dụng nhiều từ vựng cho thấy nguồn từ vựng phong phú và không mắc (hoặc) rất ít lỗi ngữ pháp.
Nếu có bất kỳ thắc mắc gì về IELTS Speaking hay các kỹ năng, đừng ngần ngại mà liên hệ DOL qua các kênh sau bạn nhé: website, Facebook.
Chúc bạn thành công.
Câu hỏi thường gặp
Làm cách nào để đạt được điểm 9.0 trong IELTS phần Writing?
Muốn đạt 9.0 IELTS trong phần thi viết, thí sinh cần đảm bảo những yếu tố sau:
Đọc kỹ yêu cầu của đề bài, trả lời chính xác câu hỏi đề bài đề cập

Lập dàn ý, cấu trúc bài viết (mở bài, thân bài, kết bài) trước khi bắt tay vào viết

Tiến hành viết và đảm bảo bài viết có đủ các phần (tối thiểu là mở bài, thân bài, kết bài), và mỗi phần thể hiện đúng vai trò của nó

Đọc lại bài viết để xác định xem bài có bị thiếu ý không Cân nhắc sử dụng từ ngữ chính xác, phù hợp với ngữ cảnh, câu chuyện

Đảm bảo các câu trong bài là đúng ngữ pháp, đúng chính tả

Sử dụng thêm các từ ngữ miêu tả cấp độ, làm tăng sự hấp dẫn cho câu văn
Tại sao phần thi viết trong bài thi IELTS khó?
Khi tham gia thi viết trong bài thi IELTS, thí sinh cần đảm bảo bài viết được hoàn thành trong khoảng thời gian quy định. Đồng thời viết đủ số từ tối thiểu mà đề bài yêu cầu. Ngoài ra, muốn đạt điểm cao trong phần thi này, bài viết của thí sinh phải có nội dung hấp dẫn, lôi cuốn, gây được ấn tượng với giám thị chấm bài.
Các dạng bài thường gặp khi viết IELTS là gì?
Sau đây là những dạng bài viết IELTS thường gặp:
Bài viết trình bày về ý kiến cá nhân đối với 1 vấn đề cụ thể nào đó

Viết về nguyên nhân, kết quả và giải pháp cho 1 hiện tượng nhất định

Bài viết bàn luận về ưu điểm và hạn chế của 1 vấn đề
Có thể thi lại phần IELTS Writing không?
Câu trả lời là không! Nếu điểm thi viết trong bài thi IELTS trước đó chưa đạt kết quả như mong đợi, thí sinh có nhu cầu thi lại sẽ phải tham gia 1 kỳ thi IELTS với đầy đủ các kỹ năng nghe, nói, đọc, viết.