Tổng hợp bài mẫu IELTS Writing Task 1 band 9 theo từng dạng
Đạt mức điểm tối đa IELTS writing task 1 - band 9 là tiền đề cực kỳ lớn để bạn nâng mức điểm tổng lên các band điểm đáng mơ ước. Trong bài viết này, DOL sẽ cung cấp cho bạn cái nhìn tổng quan về cấu trúc chắc chắn nhất khi viết IELTS task 1 và các bài mẫu band cao theo từng dạng đề.
1. Thông tin IELTS Writing task 1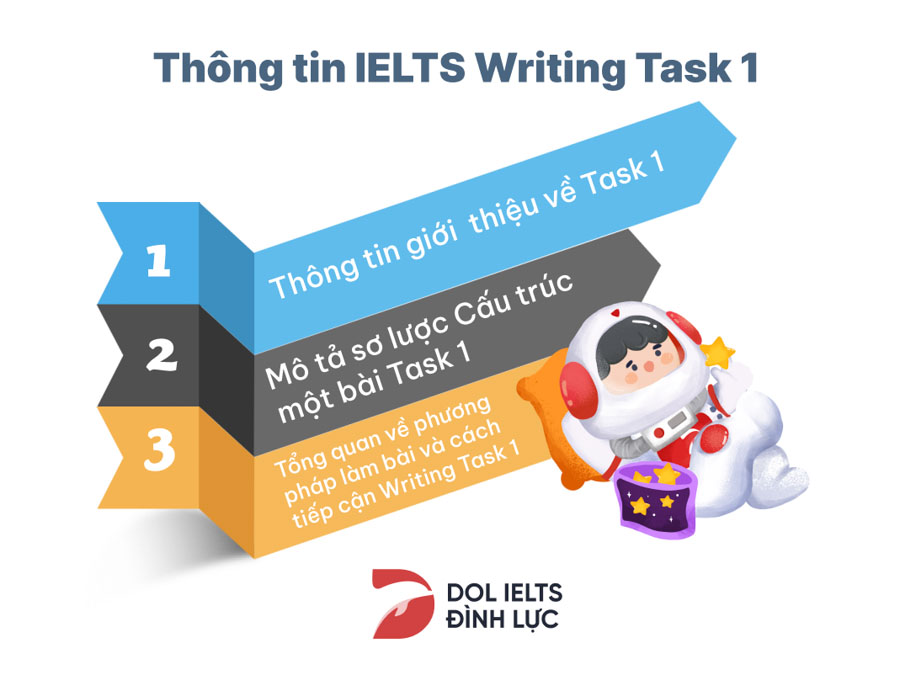 1.1 Nhắc lại một chút về Task 1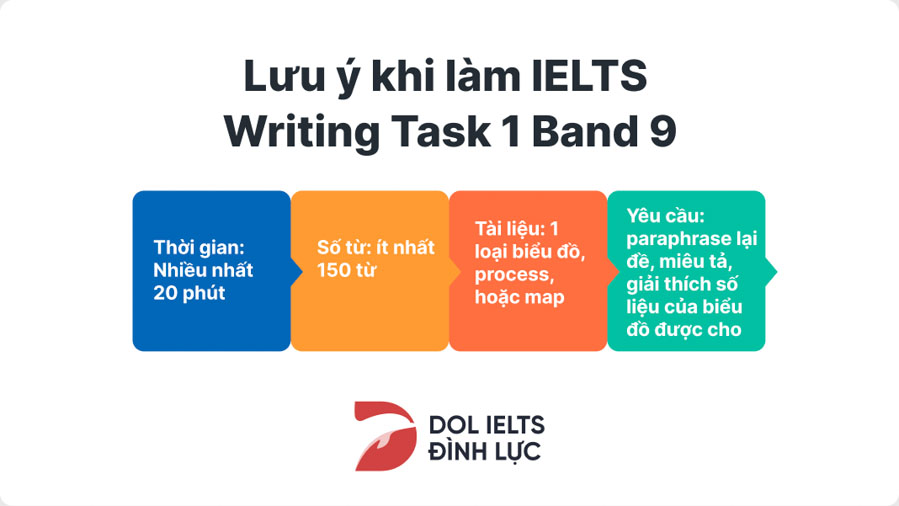 Bạn nên sử dụng tối đa 20 phút cho phần này

Bài viết phải dài ít nhất 150 từ

Bạn sẽ được cung cấp 1 biểu đồ và miêu tả ban đầu về chủ đề liên quan

Bạn được mong đợi sẽ paraphrase lại đề, miêu tả, giải thích số liệu của biểu đồ được cho
1.2 Cấu trúc một bài task 1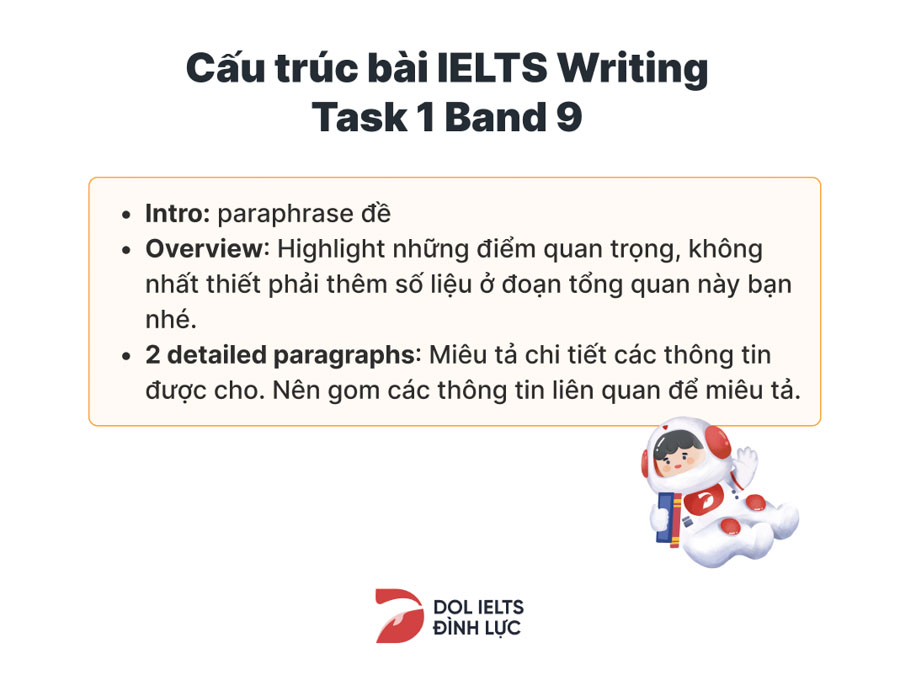 Intro: paraphrase đề

Overview: Highlight những điểm quan trọng, không nhất thiết phải thêm số liệu ở đoạn tổng quan này bạn nhé.

2 detailed paragraphs: Miêu tả chi tiết các thông tin được cho. Nên gom các thông tin liên quan để miêu tả.
1.3 Cách tiếp cận Writing task 1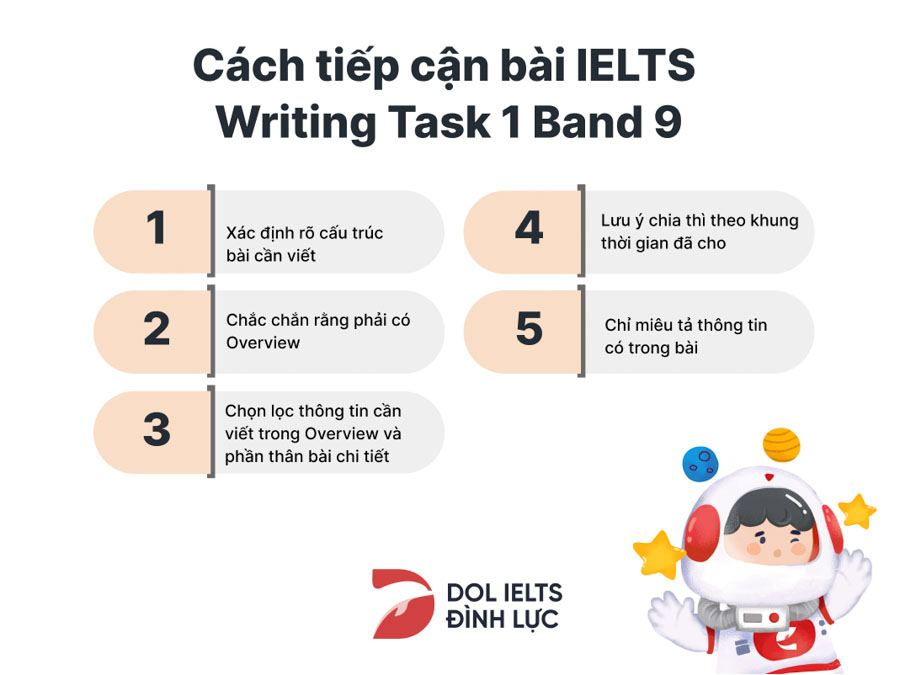 Để đạt ielts writing task 1 band 9, bạn cần rất chú ý các điểm sau khi tiếp cận bài:
Xác định cấu trúc: Khảm vào đầu cấu trúc đã nêu trên trước khi viết, đây là cách giúp bạn tránh lạc đề và viết lan man,

Đảm bảo overview như note ở cấu phần 1.2

Chọn lọc thông tin thân bài chi tiết: Trước khi viết, việc lên kế hoạch phải viết gì là tối quan trọng. Với đoạn thân bài, bạn cần nhìn thấy trend của biểu đồ. Vì với các biểu đồ có nhiều năm chẳng hạn, miêu tả thay đổi theo từng năm sẽ làm bài của bạn không mạch lạc và mất nhiều thời gian.

Lưu ý khung thời gian của biểu đồ: Nếu đề nằm trong bối cảnh quá khứ, tuyệt đối phải sử dụng thì quá khứ để miêu tả các diễn biến của biểu đồ bạn nha. Tương tự với hiện tại và tương lai.

Chỉ miêu tả thông tin có trong bài: Bạn tuyệt đối không đưa suy nghĩ cá nhân của mình vào bài writing task 1. Ví dụ: Nạn kẹt xe ở các khu vực thành thị phía Bắc tăng mạnh 50%. Tôi nghĩ là do dạo này dạo này thời tiết đẹp, người ta ra đường nhiều. => Khi không có thông tin liên quan, mình không ghi thêm bất kỳ ý gì nhé.
Khi bạn ôn thi IELTS Writing Task 1, mục tiêu của bạn là tập trung vào việc thực hiện những cải thiện có tác động đáng kể đến điểm số của bạn. Để đạt được điều này, cần nắm rõ 4 tiêu chí chấm điểm trong IELTS Writing

https://magoosh.com/ielts/score-ielts-academic-writing-task-1-band-9/
2. Bài mẫu task 1 band 9 
Cùng tham khảo các sample band cao theo từng dạng Writing task 1 của DOL nào.
Sample 1: Bar chart
The charts below give information about the price of tickets on one airline between Sydney and Melbourne, Australia, over a two-week period in 2013.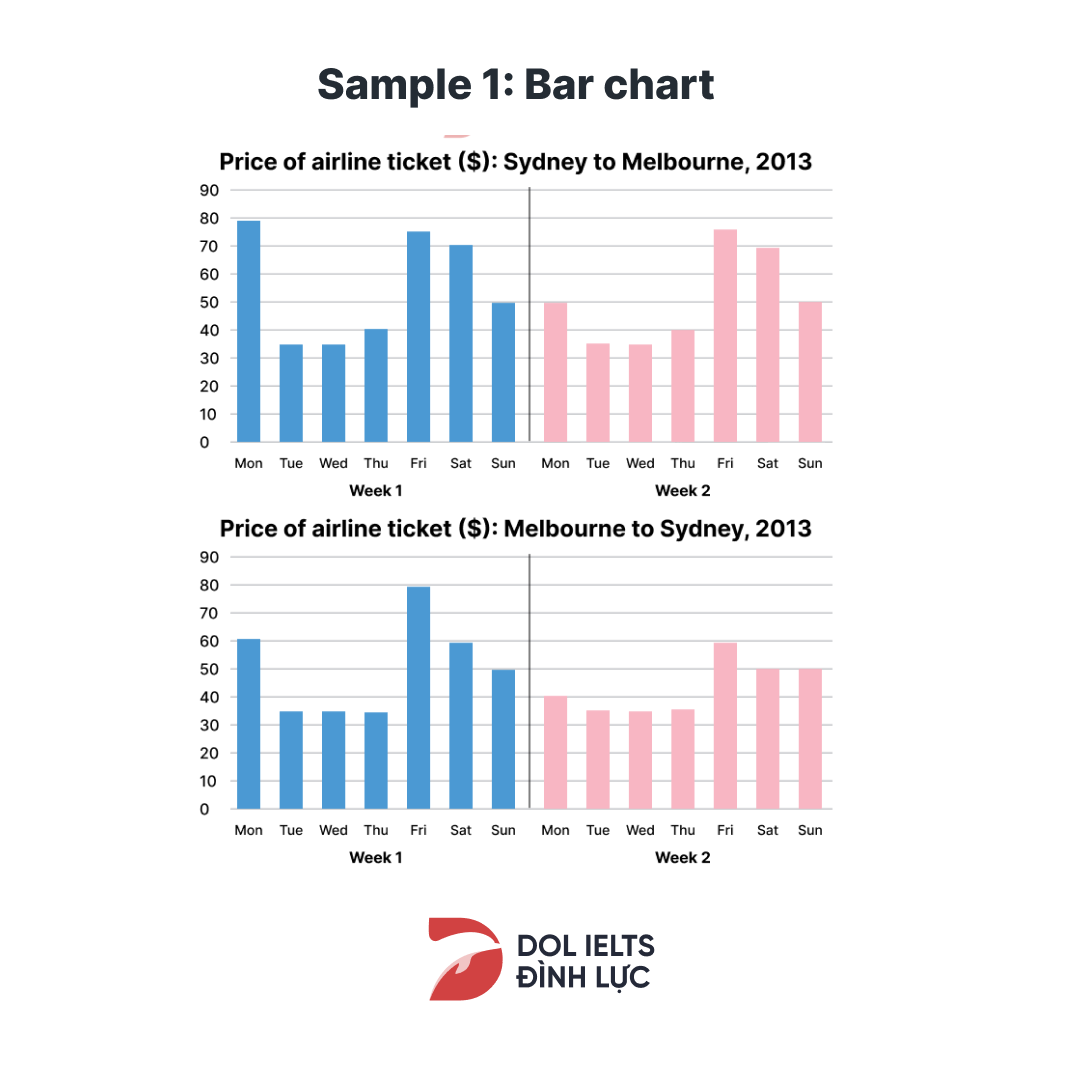 The given bar graphs show data for the cost of airline tickets for flights between Sydney and Melbourne in both directions over two weeks in 2013.
Overall, flights in both directions generally displayed patterns that are similar to one another, with higher prices from Friday through Monday. Week 2 flight prices were either significantly reduced from week 1 or remained identical.
In week 1, airfares from Sydney to Melbourne began at $80 on Monday and remained under $40 for the following three days before rising to $75, $70, and $50, respectively, on Friday, Saturday, and Sunday. The costs remained the same during the second week, with the notable exception of a drop on Monday to $50.
The trend was similar for flights from Melbourne to Sydney, with the most expensive flight being on Friday at $80 (week 1) while the lowest rate was at 35$ on Tuesday, Wednesday, and Thursday (week 1 and 2). Finally, there were declines of 10 to 20$ across Saturday, Sunday, and Monday in the second week.
Sample 2: Process
The picture shows the process of making wool.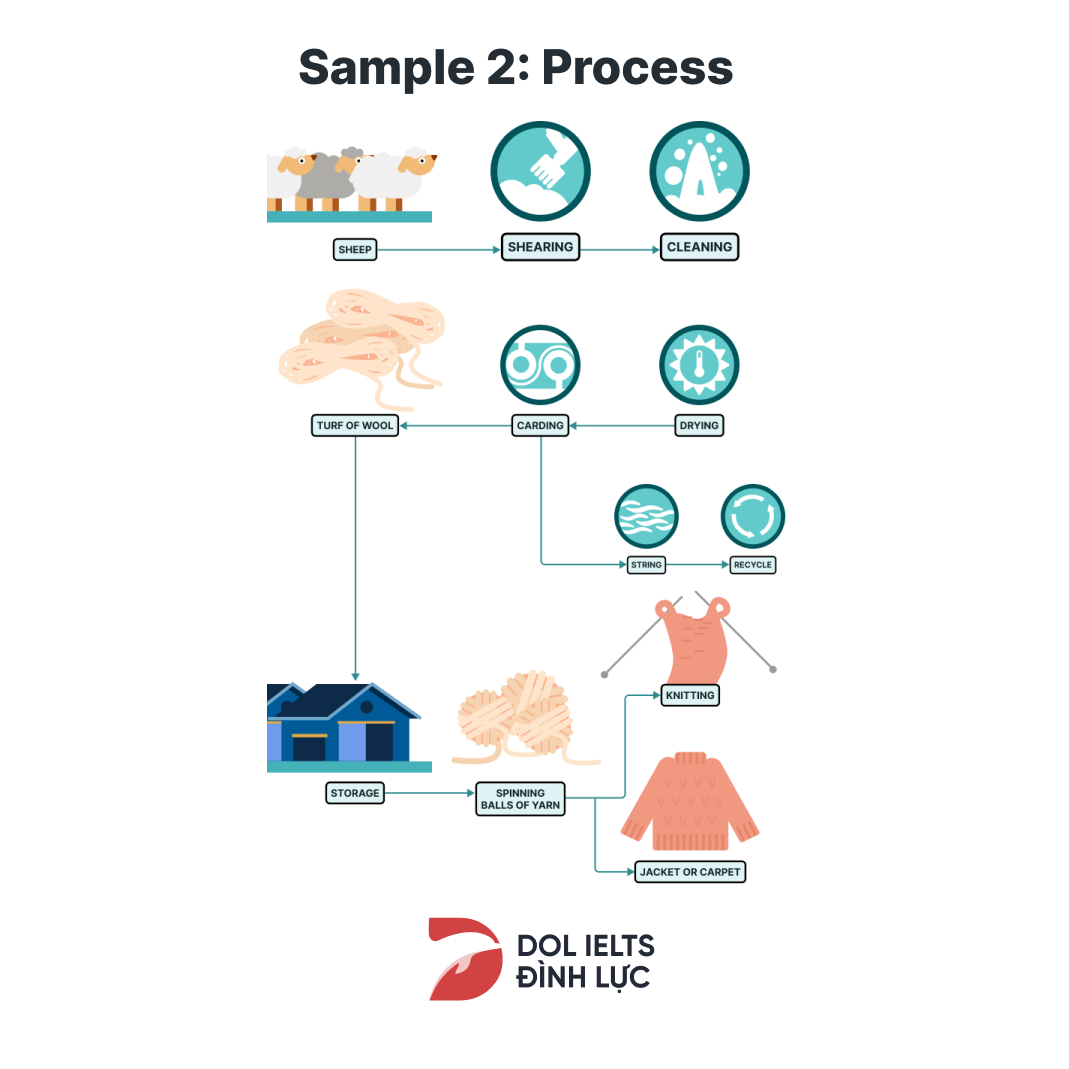 The diagram illustrates the wool production procedure.  
Overall, there are nine stages in the process of making wool, starting from sheep herding to using wool in knitting or making woolen products.
The first stage revolves around the collection of raw materials, in which the sheep are raised until they are matured enough to produce a thick layer of fur. The fur is then sheared and cleaned using water in order to remove dirt prior to the manufacturing stages. Having been clean, the wet fur is then transferred into a drying machine to soak up excess moisture. After that, the dried fur is carded with a wire instrument. This special tool brushes the wool straight and woven them into a single strand.
From this process, the wool is made into large turfs of wool, which would be put into storage, and the by-product - the discarded strings - will be recycled afterwards. In the final stage, the wool turfs are spun into balls of yarn which can either be used for knitting or for the production of woolen products such as jackets and carpets.
Sample 3: Table
The table with the percentage of students in six different departments in 2011.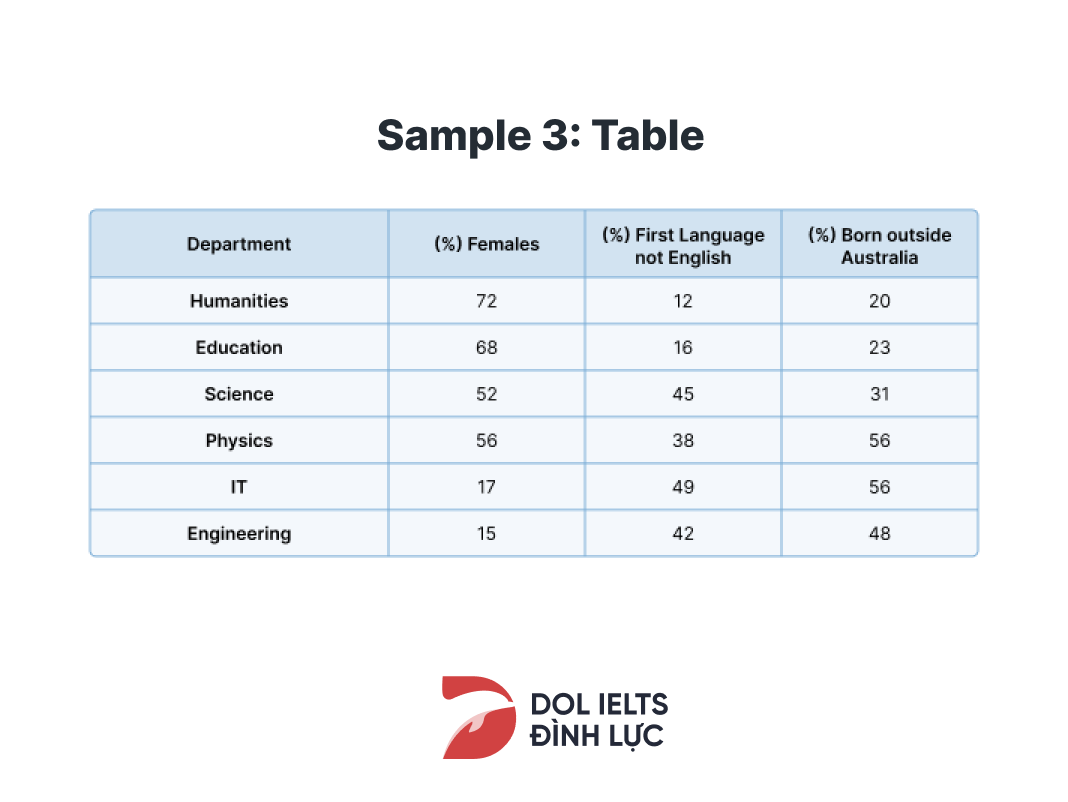 The given table illustrates data on different aspects of undergraduates who took six different majors at an Australian University in 2011.
Overall, while the social science departments attracted the majority of female students, there were a large number of undergraduates who preferred learning IT and engineering at university.
Specifically, most females were in favor of humanities majors (72%) and the educational sector (68%). While there were slightly more than half of this population studied Science and Physics (52% and 56%, respectively), they seemed less appealing to technological majors such as information technology and engineering which accounted for roughly 15%.
It is also clear that the proportion of non-native English speakers and overseas undergraduates took the leading position in science and technology majors. In particular, approximately half of students whose first language was not English enrolled in the IT department, which was followed by science (45%) and engineering (42%) majors. Whereas the physics department experienced 38% of enrolment of this group, humanities and pedagogy attracted nearly 15% of undergraduates.
The same pattern can be observed in the percentage of students born in other foreign countries. The physics and IT departments had the highest percentage of enrolment (56%), and engineering held second place with 48%. Other departments were listed in decreasing order as follows: science, education, and humanities, with 31%, 23%, and 20% respectively.
Sample 4: Map
The maps show how the industrial area will change into a housing area in the future.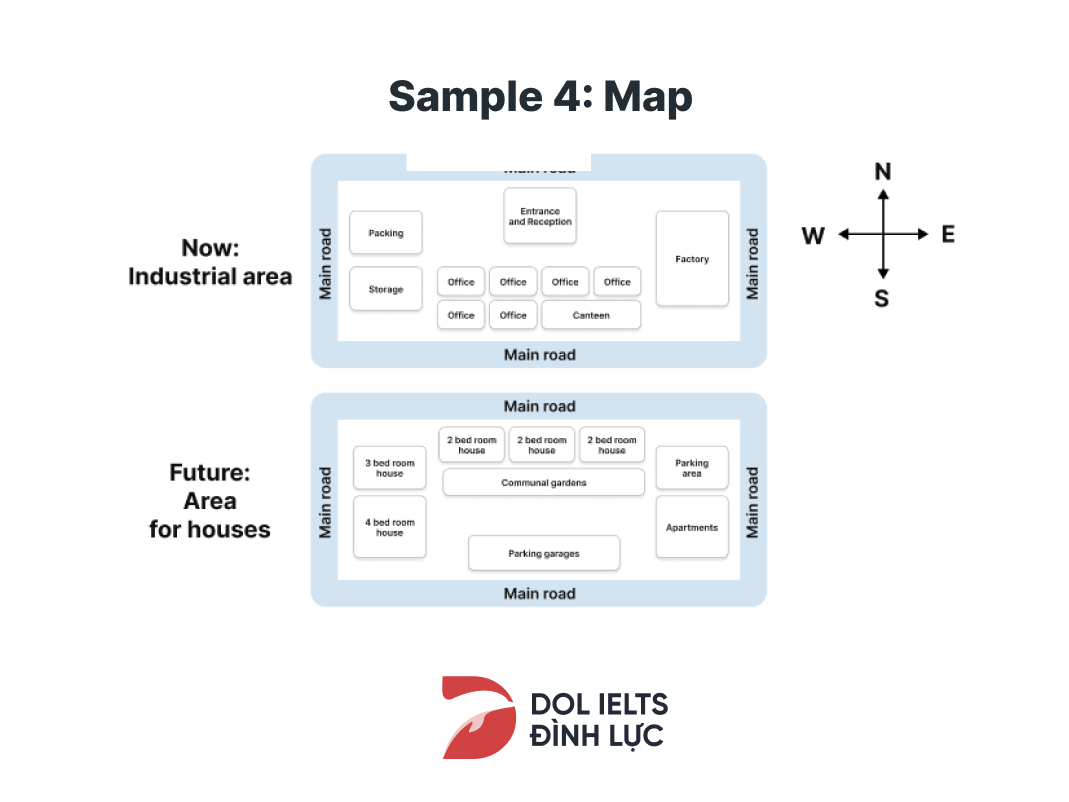 The given table illustrates certain forecasted alternations in an industrial site, which will be transformed into residential areas in the future.  
Overall, the most noticeable changes will be the addition of various buildings to the North and East of the spot; also the modification of names of specific areas and their facilities will be recorded.  
Regarding the East side of this place, the factory is predicted to be replaced by apartments, which will be located next to the newly-added parking area. While the current Entrance and Reception are placed to the North, the plan proposes its substitution by residential areas including 6 bedroom houses which will be accessed through communal gardens.
Significant changes will also be projected on the remaining sides of this site. The 3 bedrooms house and 4 bedroom house will replace the packing and storage areas in the Western part. Additionally, the substitution of offices and canteen for parking garages is also suggested in this plan. The only feature that is predicted to remain its original position is the main road which surrounds the whole area.
Sample 5: Line graph
The graph shows the average Japanese month salary (Yen) from 1953 to 1983, and the prices of black and white televisions and color televisions during the same period.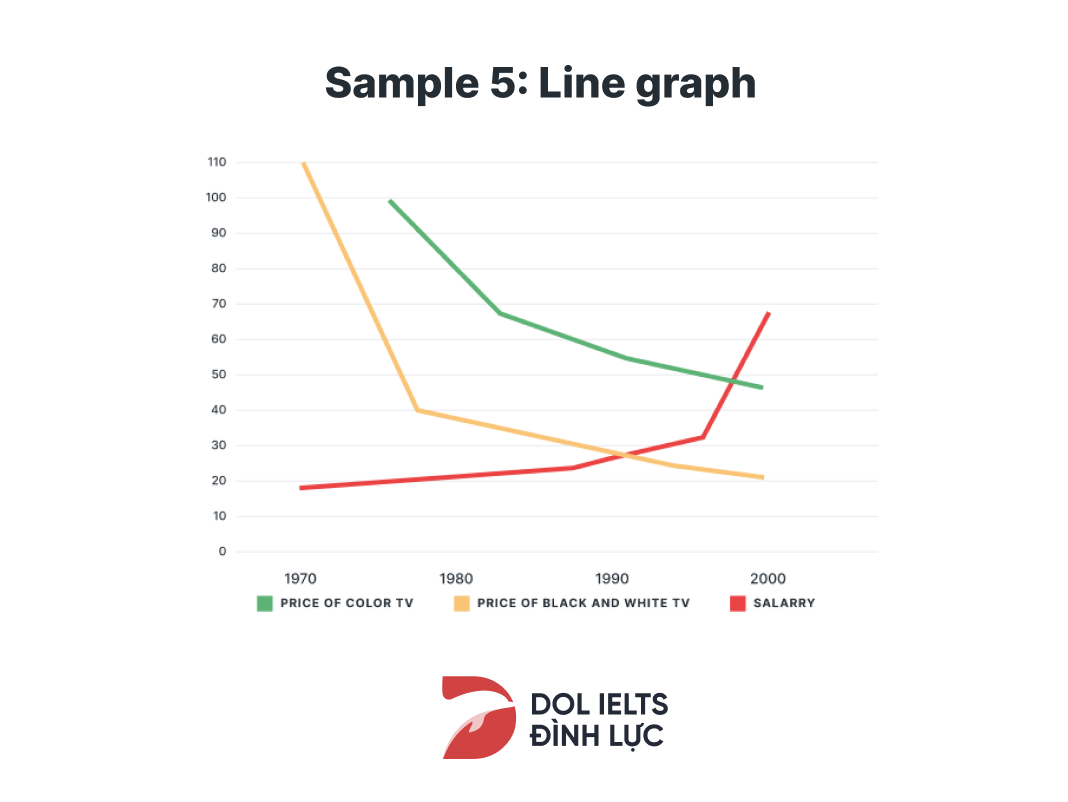 The given line graph illustrates the average monthly income of Japanese and the prices of televisions (black & white and color) from 1953 to 1983.
Overall, it can be seen that while the average Japanese monthly salary rose, television prices experienced a significant drop during the period. In addition, in the same time frame TV prices were mostly higher than the Japanese mean earnings.
Regarding the prices of television, black and white TV cost 110 thousand yen in 1970, which was the highest figure throughout the period shown. 10 years later, a significant decrease of 70 thousand yen in this cost was recorded. The prices of this type of TV gradually fell to almost roughly one-fifth thousand yen in 2000. Similar patterns can be observed in the cost of color TV. Although the price of this means of entertainment was a hundred when it first appeared in 1980, it declined to only a half at the end of the period. 
In terms of salary, at the beginning of the period, the Japanese only earned 20 thousand yen monthly. This number gradually increased by 10 thousand in 1995 and at the end of the period, the average monthly salary of people living in Japan grew to approximately 70 thousand yen in 2000.
DOL hy vọng bài viết trên đã giúp bạn có góc nhìn khái quát hơn về 1 bài IELTS writing task 1 band 9. Nếu có bất ký thắc mắc gì, đừng ngần ngại liên hệ DOL qua  website, Facebook bạn nha. Chúc bạn thành công.
Câu hỏi thường gặp
Làm thế nào để bài viết IELTS task 1 band 9 thật logic?
Sử dụng các từ nối, từ chuyển tiếp để liên kết câu văn, đoạn văn lại với nhau

Cần đảm bảo rằng các thì bạn sử dụng trong bài viết là hợp lý

Sử dụng đại từ khi viết một cách nhất quán

Hãy chắc chắn rằng những dẫn chứng, mạch truyện bạn viết không bị rời rạc, có lỗ hổng
Điểm thi IELTS writing task 1 band 9 được chấm dựa theo những yếu tố nào?
Các giám khảo sẽ chấm điểm phần thi viết task 1 band 9 của thí sinh dựa vào các tiêu chí như: Chính tả, ngữ pháp, sự thống nhất, mạch lạc của đoạn văn, câu chủ đề có ấn tượng không, và cốt truyện có được phát triển đầy đủ, chặt chẽ không.
Những từ vựng dùng để kết luận trong khi viết tiếng Anh là gì?
And so (và vì thế); after all (sau tất cả); at last, finally (cuối cùng); in brief (nói chung); in closing (tóm lại là); in conclusion (kết luận lại thì); on the whole (nói chung); to conclude (để kết luận); to summarize (tóm lại).
Những lỗi nghiêm trọng nhất thường gặp trong thi IELTS writing là gì?
Chia đoạn không hợp lý

Sai chính tả, ngữ pháp

Bài viết chưa thống nhất chủ ngữ

Giữa các câu, đoạn văn không có từ nối

Bài viết không có phần kết luận